Ministry of Home Affairs (Ministry of Home Affairs) will Remove PJ Governor of West Java Iriawan When Not Neutral
By : Ahmad Fadli Dan Aldo Bella Putra | Thursday, June 21 2018 - 21:00 IWST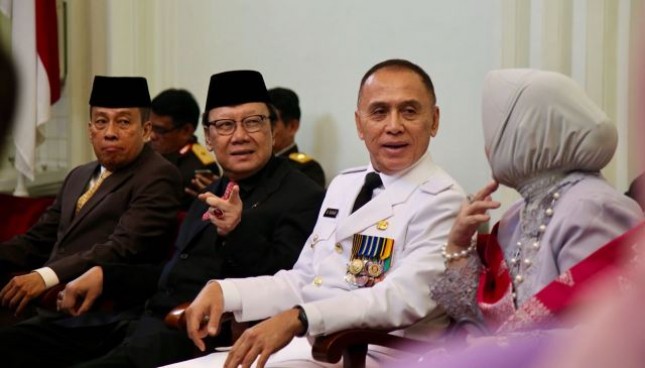 Pejabat Gubernur Jawa Barat (Jabar), Komjen Mochamad Iriawan (Dok: Kemendagri)
INDUSTRY.co.id - Jakarta - Interior Ministry threatened to dislocate PJ Governor of West Java, Komjen Pol Iriawan if not neutral in the process of simultaneous regional head elections held on 27 June, especially in West Java.
"Look, if there is a violation, mobilization of support for one candidate from the police, tomorrow morning can be dismissed," said Sumarsono, Thursday, June 21, 2018 in his official statement.
Sumarsono invited the public to monitor and report if Iriawan was not neutral in the election. Kemendagri, he said, would immediately dismiss Iriawan if proven to support or mobilize support to one of the candidates in the regional head election of West Java.
However, Sumarsono said it was unlikely. He alludes to the results of a survey of Anton Charliyan and his sekondan, TB Hasanuddin, which is still low to date.
Based on the latest survey conducted by Indo Barometer on 7-13 June 2018, TB Hasanuddin-Anton Charliyan (Hasanah) earned 5 percent, the lowest compared to three candidates for governor and deputy governor of West Java. Executive Director Indo Barometer M. Qodari said the inauguration of Iriawan had no correlation with Hasanah's voice.
Sumarsono said the mobilization of support will be difficult to do in H-6 simultaneous elections. "The distance of several days with the position of survey results like this baseball may be the mobilization," he said.