Premium Compulsory Return, Did Not Change Pertamina Oil Refinery Roadmap
By : Ahmad Fadli Dan Aldo Bella Putra | Saturday, June 23 2018 - 18:30 IWST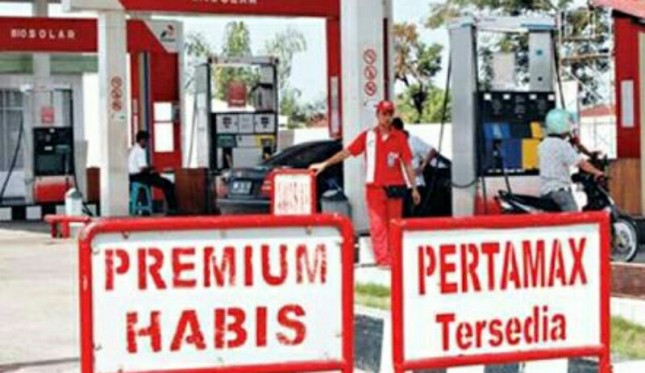 Premium langka (Ist)
INDUSTRY.co.id - Jakarta - State-owned oil and gas company PT Pertamina (Persero) hopes that the government's re-mandatory policy of Premium distribution will not affect the plan and roadmap of oil refinery development that is currently underway. Nicke Widyawati, Managing Director of Pertamina's Task Force, said that Pertamina's refinery development objective is to deliver fuel with better quality than the current condition.
"Pertamina refinery development strategy will be many Euro IV, Euro V. With Premium policy still, disturbed baseball? Other products are still needed, "said Nicke when in Jakarta, Friday (22/06/2018).
According to Nicke, the availability of products other than Premium is still very necessary. This can be seen from the increase in Pertamax fuel consumption. Moreover, new cars are produced in the future cannot accept low-quality fuel.
"Yesterday Pertamax also increased high. So still there demand. All the products are each still there. If the new cars are now Euro IV is not a minimum, "said Nicke.
The government has issued a revision of the Presidential Regulation (Perpres) 191 of 2014 by issuing Presidential Regulation 43 of 2018 which requires the distribution of Premium to all areas of Indonesia, including Java, Madura, and Bali (Jamali) previously not required.
According to Nicke, the addition of distribution areas according to the latest beleid does not necessarily directly increase the consumption of Premium significantly.
"That's an additional yes, whereas if we see a refinery producing Euro IV and Euro V is still small," he said.
Adiatma Sardjito, Vice President of Corporate Communications at Pertamina, added that the preparation of fuel is better quality in line with government programs in the automotive industry that have issued rules for car production with the ability to absorb Euro IV type of fuel.
"Rules 1 October should be Euro IV, if it is Euro IV cannot fill Euro II. If you have issued Euro IV (car), fuel from where try, "he concluded