Review Preparation of HPS 2018 in South Kalimantan, Minister of Agriculture on Utilization of Swamp Land
By : Wiyanto Dan Aldo Bella Putra | Friday, June 29 2018 - 21:00 IWST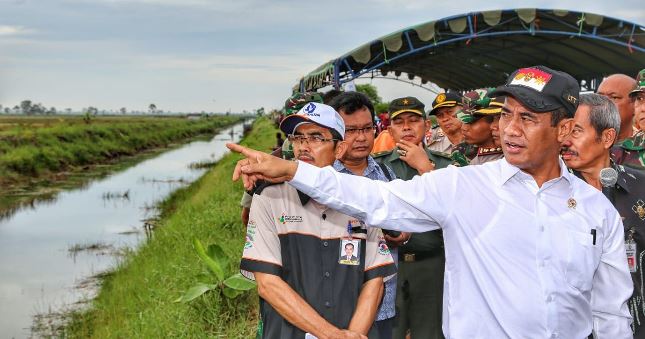 Mentan Andi Amran Sulaiman (Dok Industry.co.id)
INDUSTRY.co.id - Barito Kuala, Minister of Agriculture (Mentan), Andi Amran Sulaiman and Army Chief of Staff, Lieutenant General Tatang Sulaiman reviewed the preparation of World Food Day celebration (HPS) XXXVIII 2018 held in South Kalimantan (South Kalimantan) in October.
Present at this visit are South Kalimantan Governor, Sahbirin Noor, Territorial Assistant, Major General TNI Supartodi, Director General of Infrastructure and Facility of Agriculture, Pending Dadih Permana and Director General of Horticulture, Suwandi.
Minister of Agriculture Amran said the HPS warning is an important momentum to introduce the world to the progress of agricultural development, especially the success of Indonesia to utilize swamp land into productive agricultural land. Therefore, swamp land has the potential to provide a national food stock so that food sovereignty materializes.
"With 1 million ha of swamp land in South Kalimantan and South Sumatra, there is an additional 8 million tons of rice per year if planted 3 times a year and productivity of 5 tons per ha," said Amran in South Kalimantan, Friday (29/6 / 2018).
Swamp land to be used as the location of Technology HPS XXXVIII 2018 this time warning area of ​​4,200 ha located in Barito Kuala District. The development of prone land is complemented by the development of irrigation and mechanization of modern agriculture.
"We expect 4,200 ha of swampland to be open in the past few months so that the HPS can be planted. Our budget is special for South Kalimantan because it has a large potential swamp land, "said Amran.
To accelerate the development of swamp land into this productive land, Amran mentions Kementan providing agricultural machinery equipment such as excavator as much as 40 units. Thus, the swamp land in Barito Kuala is rapidly becoming productive rice fields and can be continued to other areas.
"This excavator will move to other districts to build paddy fields. Because,
The potential of swamp land is very secure national rice availability, "said Amran.
Governor of South Kalimantan, Sahbirin Noor said the implementation of this 2018 HPS warning in accordance with the vision of South Kalimantan as a central food province. Thus, the Provincial Government of South Kalimantan together with all parties, especially farmers are ready to succeed the implementation of HPS so that food sovereignty materialized as the hope of President Jokowi to Kementan.
"Clearly South Kalimantan is very grateful as the host of HPS. Hopefully all the programs in South Kalimantan will be successful in providing food and community welfare, "he said.
Wakasad, Lt. Gen. Tatang Sulaiman also expressed readiness to fully support the implementation of HPS. This is in line with the government's desire that the TNI is involved in supporting the acceleration of food sovereignty and the means for TNI to be in close contact with the community.
"During this time, TNI's involvement supports upstream to downstream food programs. Upstream is opening the land, such as forest land and swamp land into agricultural land and encourage the addition of extensive planting, "he explained.
"Then downstream aspect, TNI cooperates with Bulog to absorb grain of farmers. The goal is that the national food stock, especially rice is guaranteed, the country does not experience turmoil when the stock of rice is reduced or natural disasters occur, "said Tatang.