TNI Commander Apologizes Related to Beatings by Members
By : Herry Barus And Aldo Bella Putra | Saturday, August 12 2017 - 14:05 IWST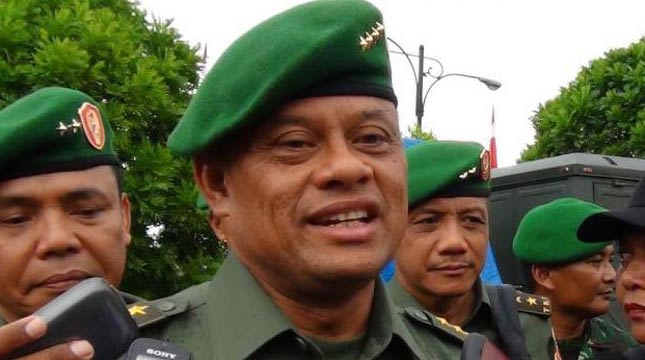 5122
INDUSTRY.co.id - Jakarta - TNI Commander General Gatot Nurmantyo apologized to the police related to the beating of his members, Serda Wira Sinaga in Pekanbaru, Riau against members of the Polantas Bripda Yoga as spread in social media.
"The incident, I apologize to the Police, the member is currently in the process of investigation," said TNI Commander after Public Lecture at London School of Public Relations (LSPR), Jakarta, Friday (08/11/2017)
He said, Serda Wira Sinaga suffered psychiatric disorders, so doing a bad action that.
"The person has been arrested, the person has psychiatric disorder, every week consultation, Journalist can check in the Mental Hospital, whether it is true of mental illness or not," he said.
He explained that the legal process on Serda WS would certainly run. "It's under arrest, the TNI will not be releasing, dismissing the members without legal process, processed but he is mentally ill, but we are still in the process of legal law," he said.
Video of the TNI member of the Military Resort Command 031 / Wirabima fighting hit the Pekanbaru Traffic Police helmet on Jalan Sudirman became viral in cyberspace.
At that time the Police Personnel was in tandem with unscrupulous members of the TNI who were not wearing helmets. But at that time Yoga Bripda no reprimand or dismiss the individual TNI. Then, a member of the TNI is chasing Bripda Yoga and hit his motorcycle from behind. Next hit the helmet (head) Bripda Yoga four times.
Seen in the video members of the TNI wearing brown jackets with buttons open, but still seen his green colored clothes. When he passed, he first spoke to the police and scolded loudly and then hit the Police helmet.
The reaction from Polantas stood up but it was not clear what he was saying. The white-backed police officer sat again until the TNI member also returned to his motorcycle and left.
The incident took approximately one minute more with TNI soldiers using a motorcycle duck not wearing a rearview mirror and the vehicle body colored sky blue to remove the original brand.
The fight also took almost three-quarters of the road or a single vehicle that could pass.
Surely that event makes jams the main street of Pekanbaru is even more time is rush hour. Plus the number of people who just watch the event.