Emphasize the Spirit of Conservation, President University Holds Lecture 'Planting the Seed of Conservation'
By : Hariyanto And Aldo Bella Putra | Wednesday, July 11 2018 - 17:00 IWST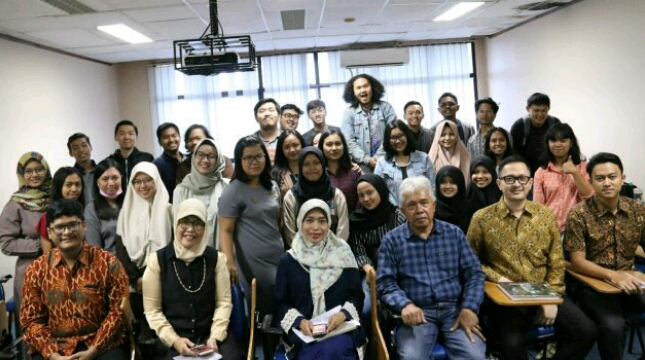 President University menyelenggarakan kegiatan Guest Lecture Planting the Seed of Conservation
INDUSTRY.co.id - Cikarang - In order to foster the spirit of environmental love and nature conservation among the students, President University held the "Planting the Seed of Conservation" Guest Lecture on Monday, July 9, 2018 by presenting speakers Deniek G. Sukarya, landscape & nature photographer as well as environmentalist.
The large potential of plant biodiversity, trees and flowers in Indonesia, especially those from the province of West Java can be an opportunity for students who have the care and passion to realize the conservation of nature and love the environment.
President University supports every activity to develop a conservation area or botanical garden around the campus area in Jababeka. With the area of ​​conservation or botanical garden is clearly useful as a green area in the middle of an industrial area as well as become one of the natural tourist destinations healthy and educational.
In his presentation, Deniek G. Sukarya stressed to the students there needs to be curiosity and love nature first and after that emerging conservation spirit.
"The spirit of conservation is the dedication of the heart to help keep our environment healthy for our children, and future generations," explained Deniek in front of the President University students as quoted from presidentposid, Wednesday (11/7/2018).
Deniek said Jababeka could be a suitable location to build a special area of ​​nature conservation. Moreover, there is no industrial area in Indonesia which also has a special area of ​​nature conservation in the same region. "Ideally there is a conservation area or botanical garden in Jababeka," explained Deniek.
According to Deniek, to build a master plan botanical garden can follow the standards and requirements issued by the Indonesian Institute of Sciences (LIPI). If land requirements are met for physical development, it can be assisted by the Ministry of Public Works. For information, Deniek is currently also a consultant on Jagatnatha botanical garden development in Jembrana District, Bali.
Deniek also suggested some things that must be considered in building a botanical garden that is the type of tree; flower or fruit grown must be in accordance with the local endemic, should still prioritize the natural development and the importance of experts who do understand the conservation techniques.
Currently in Jababeka Industrial Estate, Cikarang, Bekasi, West Java, became a modern eco-industrial area was first built by private companies in Indonesia. Developed by PT. Jababeka since 1989 on 5,600 hectares of land, Jababeka is still today the largest industrial park in Southeast Asia.