Constrained by Busyness, Ahmad Dhani and Neno Warisman Cancel to Solo
By : Herry Barus And Aldo Bella Putra | Sunday, September 09 2018 - 15:00 IWST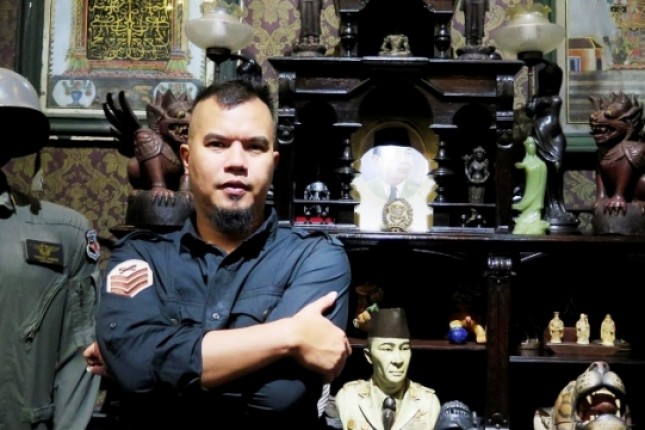 ahmad dhani
INDUSTRY.co.id - Solo-Ahmad Dhani and Neno Warisman failed to come to the city of Solo, Central Java in the context of healthy walks of Muslims and the people of Solo.
"They failed to attend. Ahmad Dhani preparations to Surabaya fulfilled the East Java Regional Police's call. While Neno Warisman also could not attend because there were things that could not come," said Public Relations Committee for Healthy Walk Endro Sudarsono, in Solo, Sunday (9/9/2018)
The healthy walk began at 06.00 WIB at the Gladak Solo Roundabout, which was conducive. Thousands of participants attended the event in an orderly manner.
One participant, Sofia Sumarubin, said that participating in the activity was on her own accord.
"I got information from one of the clerics, telling me there was a healthy path. So my friends and I joined," said one of the students at Al Husnayain Solo Islamic Boarding School.
One of the lecturers of Ustaz Samsul Balda hoped that this activity could be a consolidation of Muslims to contribute to building a more just and impartial Indonesia.
"Muslims are obliged by Allah SWT to maintain harmony. Indeed, all believers are brothers," he said as quoted by Antara
He hopes that everyone can put aside differences and hope that Muslims do not break up.
Previously, based on a letter from Surakarta City Police Number: S1163 / lX / YAN2.1 / 2018 / Resta Ska dated September 7, 2018, explaining that Solo Healthy Walk program for Gladag-BI-Mangkunegaran-Keprabon-Gladag route could be held.