New Tawangmangu Varieties Driven For Garlic Self-Sufficiency
By : Wiyanto Dan Aldo Bella Putra | Monday, September 10 2018 - 20:00 IWST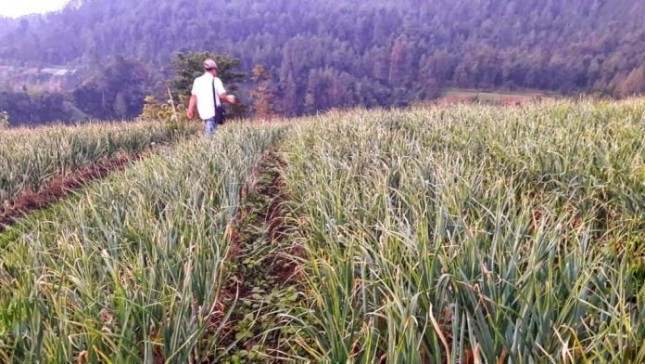 Lahan tanaman bawang putih
INDUSTRY.co.id - Karanganyar - Ministry of Agriculture targets that in 2019 Indonesia can meet the needs of garlic seeds. This is an important step before achieving garlic self-sufficiency in 2021. Various adaptive local and imported varieties such as Lumbu Hijau, Lumbu Kuning, Lumbu Putih, Sangga Sembalun, Tawangmangu Baru and Great Black Leaf (GBL) from Taiwan continue to be developed as seed production materials.
One type of local garlic that is suitable is developed because of its high productivity of new Tawangmangu (TMB). The variety initially developed from a vegetable producing area in the Tawangmangu Karanganyar area of ​​Central Java. TMB is officially registered with the Ministry of Agriculture since November 1, 1989. The variety is widely grown in the areas of Tegal, Wonosobo, Banjarnegara, Temanggung, Magelang, Magetan and Karanganyar itself.
"Tawangmangu Baru garlic harvest is very good, the tubers are large, the growth is good and the stems are sturdy. If this type is widely developed, we are more optimistic that garlic self-sufficiency is achieved in 2021," said Prihasto Setyanto, Director of Vegetables and Medicinal Plants when visiting the work of monitoring garlic planting in collaboration with farmers with importers in Pancot, Kalisoro, Tawangmangu, Karanganyar, Central Java on Saturday (08/09).
Accompanied by Kasubdit Bawang, Agung Sunusi, and the local agriculture service official, Prihasto said that besides high productivity TMB also had several advantages. This type of garlic can be harvested at 110 to 140 days. Plant height can reach 60 to 80 cm. Appropriate planted on land above 1,000 meters above sea level. The cloak is purplish white. The aroma is so strong that it is suitable for cooking.
"In the future this type will be driven by production and productivity. In addition to consumption, it will also be used as seed for the next planting season," explained Prihasto. "We continue to pursue local superior seed production, because when seeds are lacking and demand is high as it is now prone to circulation of fake or oplosan seeds, it needs intensive supervision of seed circulation. The Ministry of Agriculture constantly reminds all parties to be vigilant," he added seriously.
The price of garlic TMB dry consumption is observed in the range of Rp 30 thousand to Rp 40 thousand. While the price of wet condes at the farmer level is currently Rp. 20 thousand per kilogram. This type of onion is in great demand by culinary entrepreneurs. The marketing is only reaching the area of ​​Solo Raya and its surroundings.
Suratno, chairman of the Galang Mitra Sejahtera farmer group, said that the productivity of TMB types grown in Kalisoro could reach 15 to 20 tons per hectare of wet harvest. "Farmers here have been planting garlic here for decades with other vegetables such as carrots, scallions and cabbage. For optimal results, at the end of April we have to plant garlic. At the latest June planting, if it is past that month the results are not good," Suratno said. .
When asked the key to the success of garlic cultivation, Suratno called the factors of seeds, fertilizer and water. "Farmers here are fanatical about planting Tawangmangu Baru seeds. We use a planting distance of 15x15 cm. The fertilizer we use is 10 tons of manure per hectare, 1.6 tons of organic fertilizer per hectare and 300 kg of NPK per hectare by dissolving it into water. given to the plant in a diocorous way ", beber Ratno. "There is abundant water available here, if the dry season is left only use sprinkles. Precisely if it is planted in the rainy season the results are bad," he said.
"Our farmers are ready to support the government's self-sufficiency program. We hope the government support to print new seed breeders, so that the availability of certified TMB seeds can increase," Suratno concluded.