Build the Spirit of Lombok Earthquake Affected Children Through Trauma Healing Activities
By : Herry Barus And Aldo Bella Putra | Wednesday, September 19 2018 - 19:30 IWST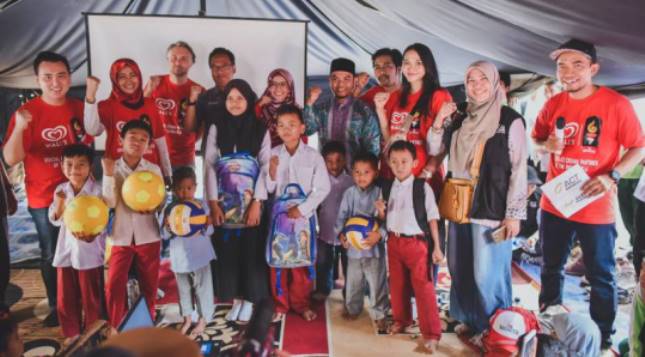 Bangun Semangat Anak Terdampak Gempa Lombok Melalui Aktivitas Trauma Healing
INDUSTRY.co.id - Lombok - The Humanitarian Organization of Aksi Cepat Tanggap (ACT) together with Wall's carried out a series of joint activities to provide happiness for the people affected by the Lombok earthquake, especially children in Gunung Sari and Pamenang. Besides bringing happiness, through this activity Wall's also invited Pungky Afriecia to provide motivation for hundreds of earthquake affected children to continue to be optimistic and have a winning spirit in any conditions and situations.
Ahyudin as the President of Aksi Cepat Tanggap said, "It took a long time to restore the living conditions of the people of Lombok, including the lives of 2,641 refugee children in North Lombok. Although the earthquake emergency response status has been declared passing, many of them are still living in fear due to prolonged trauma. Therefore, we welcome the initiative of Wall's to take part in efforts to recover their psychological condition. Together, we prepare various forms of trauma healing assistance which are expected to bring enthusiasm and happiness that are meaningful to children, especially to restore the joy that has recently disappeared from their lives."
Jochanan Senf as Director of Refreshment of PT Unilever Indonesia Tbk. explained, "We realize that trauma healing is important to do. For this reason, Unilever through Wall's tried to bring happiness to the affected communities, especially children. This is in line with Wall's mission to always share happiness. On this occasion we brought along Pungky Afriecia to also spread the spirit of championing so that children can again foster optimism to rise from the earthquake. We hope that what we do today can bring happiness and foster the enthusiasm of the Lombok children to pursue their dreams again".
Enthusiastic encouragement through the presence of the nation's proud national volleyball athlete and Indonesian Team Ambassador, Pungky Afriecia was given through sports and sharing inspiration with residents and children affected by disasters. Pungky commented, "I was moved to see the living conditions of the people of Lombok in the aftermath of the earthquake, and thanked for the opportunity provided by ACT and Wall's to be able to participate in this activity," he said.
As an athlete, Pungky said, one of the things that encouraged him to continue to excel was the spirit of championing, where he always tried to rise from various failures that I encountered. "For me, failure is a challenge that we must go through to prove ourselves. It is this spirit that I want to spread to the people of Lombok, especially children - that behind every difficulty, there must be a greater opportunity to rise to become a champion. "
Dr. H. Najmul Akhyar, SH, MH as North Lombok Regent also expressed his appreciation. He was grateful for the help from ACT and Wall's because it was an encouragement for the children not to continue to dissolve in fear and sadness. According to him, this kind of support is needed to ensure that the people of Lombok are resilient people who are able to rise even better than before the earthquake.
Today ACT and Wall's visited three locations, namely Gunung Sari Elementary School located in Kekait Village, and the Primary School and refugee camp of Pemenang Timur sub-district. The series of trauma healing activities on this day will be continued by sharing happiness through 55,000 free ice creams that will be distributed periodically to people spread across various regions in Lombok.
In addition, there are also activities to spark cheerfulness and enthusiasm for children's championship through playing volleyball and soccer together which is expected to continue with the sports facilities and equipment provided, entertaining children through the animated film Paddle Pop Lion Adventure followed by equipment donation film screening to elementary schools, distribution of school bags accompanied by encouragement messages from hundreds of Unilever Indonesia employees, and so on.
"Today's activities are expected to help restore the joy of the Lombok children and convince them that, ACT, Walls and all the people of Indonesia always pray for and support their winning spirit," concluded Ahyudin.