Kao Corporation, Apical & Asian Agri Join Hands to Empower Smallholders with SMILE Program
By : Krishna Anindyo | Thursday, October 29 2020 - 08:35 IWST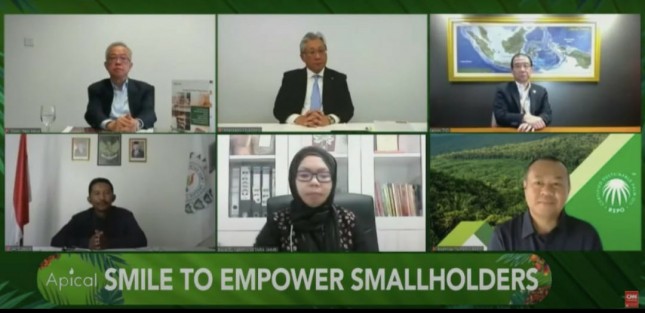 SMILE to Empower Smallholders
INDUSTRY.co.id - Jakarta – Three leading companies in the palm oil industry – Kao Corporation, Apical Group, and Asian Agri – launched a new sustainability initiative, known as SMILE or the SMallholder Inclusion for better Livelihood & Empowerment program to help independent oil palm smallholders in Indonesia improve their yields, acquire international certification, and eventually secure sales premiums from selling certified palm oil.
SMILE launched today through a live webinar titled 'SMILE to Empower Smallholders', which aired on CNN channel - a major media outlet that focuses on smallholder development and works closely with the Roundtable on Sustainable Palm Oil (RSPO). As many as 500 people participated in this webinar, with invitations directed from Asian Agri, KAO and Apical. An esteemed panel of speakers representing various organizations shared industry knowledge on various topics related to smallholders and the issues they faced today.
"The 11-year initiative seeks to build a more sustainable palm oil value chain by working with independent smallholders who contribute more than 28% to Indonesia's overall palm oil market. SMILE will be implementing activities in accordance with the framework provided by RSPO, and working to ensure traceability as far as the oil palm plantation, in order to build an environmentally-friendly, socially-aware supply chain," said President of Apical Group, Dato' Yeo How.
"SMILE seeks to bridge the knowledge gap of independent smallholders by partnering with them and leveraging on the success that companies such as Asian Agri have demonstrated with its long-time partnerships with smallholders. SMILE recognizes that independent smallholders are private business owners who are challenged to increase their yield and productivity but may neither have the knowledge nor the technical expertise to do so," said Kelvin Teo, Managing Director of Asian Agri.
"This upscaling and provision of equipment will be done from 2020 to 2030 with a view of securing RSPO certifications by 2030. Once certified, the smallholders will then be eligible to receive certified palm oil premiums averaging 5% higher than non-certified palm oil. As part of RSPO requirements as well as our companies' commitment towards the UN Sustainable Development Goals (SDGs), the program will include initiatives that promote greater inclusion and better livelihood via empowerment initiatives for communities," said Negoro Masakazu.
SMILE will offer smallholder farmers the opportunity to:
- Increase productivity by applying sustainable and good agricultural practices which result in improved Fresh Fruit Bunches (FFB) yield and greater social and environmental protection
- Reduce herbicide usage by providing adjuvants on a trial basis referring to trail results and plant maturity
- Increase income as a result of additional premium prices for certified FFBs, improved productivity and cost savings from reduced chemical usage
The goal is to improve the livelihoods of the independent smallholders through enhanced productivity with no-deforestation, no-peat land and no-exploitation. Throughout SMILE's implementation, the three companies will regularly engage various stakeholders such as NGOs, NPOs, and community leaders to ensure competent delivery of training, adequate allocation of equipment, timely provision of needs at the estate and community level, as well as optimized collaboration towards building a more sustainable and traceable supply chain.
"We are thankful to our members and implementing partners like Kao, Apical and Asian Agri for helping these smallholders achieve RSPO certification through capacity building, good agricultural practices, or the purchase of RSPO Credits. Through the spirit of shared responsibility, we invite more companies to champion the new RSPO Independent Smallholder Standard to increase smallholder inclusion in the sustainability agenda to enhance their livelihoods and provide greater access to international markets," added Chief Operating Officer of RSPO, Bakhtiar Talhah.
The webinar lasted 2 hours and the dialogue included representation from the national farmer's association (H. Sutoyo, Ketua Asosiasi Anugrah), and Setara Jambi (Nurbaya Zulhakim, Director).