Sawit Sumbermas Sarana Preparing RSPO Virtual Tour for August 2021
By : Abraham Sihombing | Saturday, July 24 2021 - 12:15 IWST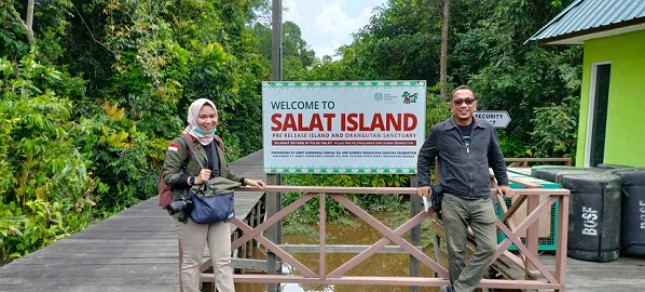 Salat Island is become a conservation area for Orangutan by the management of PT Sawit Sumbermas Sarana Tbk (SSMS). (Foto: Public Relations of PT Sawit Sumbermas Sarana Tbk)
INDUSTRY.co.id - Jakarta - PT Sawit Sumbermas Sarana Tbk (SSMS), a public firm of palm oil firm listed in the Indonesia Stock Exchange (IDX), plans to hold a RSPO Virtual Tour on August 2021. It is a measure to support a partnership that is suitable with a mechanism of Remediation & Compensation Program (RaCP) Roundtable on Sustanable Palm Oil (RSPO).
The RaCP RSPO program is completed by SSMS by providing a conservation area for Orangutan in Salat Island, Pilang Village, Pulang Pisau District, Central Kalimantan Province. The program emphasizes that SSMS does not only give a priority for a profit in business, but the company also cares with environment and society.
Head of Sustainability SSMS, Henky Satrio Wibowo, disclosed, his party is preparing the RSPO Virtual Tour activities for August 2021. For checking the preparation progress of that program, the RSPO team visited the Orangutan conservation area in Salat Island, Pilang Village, Pulang Pisau District, Central Kalimantan Province on June 12 - 13, 2021.
"This is the second visit of RSPO for observing the partnership progress that is initiated by PT Sawit Sumbermas Sarana Tbk together with Yayasan BOS (Borneo Orangutan Survival) since 2016,"said Hengky on Friday (23/07/2021).
He added, the virtual tour activity is a good chance to educate and reject a negative perception of Indonesian people to the palm oil industry, especially this activitiy involves a lot of young generation.
Through this activity, his party also wants to show that SSMS is the company that owns a big responsibility. Besides, this activity also broadcasts, that the palm oil industry presence is capable to become a solution as well as giving a positive contribution to preserve environment and rare animal, especially Orangutan.
Not only visited to the Salat Island, the RSPO team also took time to hang out with the Chairman of Village-owned Companies (BUMDes) of Pilang Village and the Chariman of Pandohop Farmer Group which is a supplier for Orangutan feed and logistics needs in Salat Island.
Imam A. El Marzuq, the Senior Manager Global Community Outreach and Engagement RSPO, explained, the main objective of this activity is an education for people, especially the young generation, that the sustainable palm oil has been completed by the palm oil industry players in Indonesia, that are joined in the RSPO membership.
According to Imam, the beginning concept of RSPO Virtual Tour is to invite participants to visit directly to Salat Island. But, the Covid-19 pandemic condition that has not been conducive, so the activitiy concept is changed to be a virtual visit by using digital platform.
Imam pledged, the video that has been made by the RSPO Team will be packed as attractive as possible with various information. The objective is the virtual tour participants are capable to enjoy and get information from many location like a direct visit. (Abraham Sihombing)