Agriculture Minister: Ministry to Strive for Maximum Production of Swallow's Nests and Porang Plants
By : Nata Kesuma | Thursday, May 06 2021 - 06:05 IWST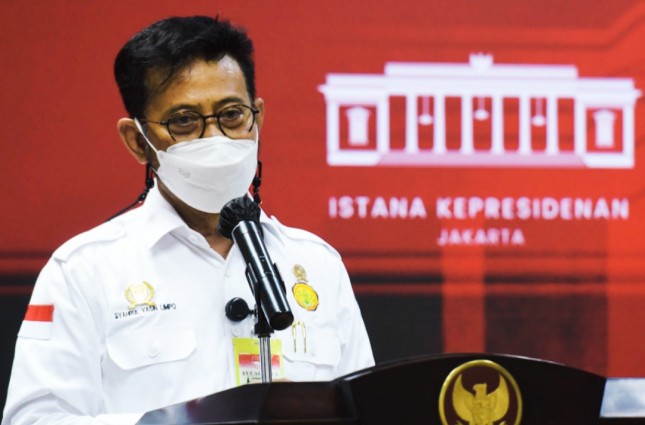 Minister of Agriculture Syahrul Yasin Limpo delivers a press statement of Swallow's Nests and Porang Plants (Photo by: PR of Cabinet Secretariat/Agung)
INDUSTRY.co.id - Ministry of Agriculture has announced it will strive for maximum production of swallow's nests and porang plants since those are the mainstay of Indonesia's commodities, Minister of Agriculture Syahrul Yasin Limpo has said.
The Ministry will also cooperate with Ministry of Industry and Ministry of Trade to develop the downstream sector of commodities and export the products to global market.
"Ministry of Agriculture will make maximum efforts to cultivate and produce the two commodities by downstreaming the products through further processing with Ministry of Industry, while the market place regarding trade arrangements, including product exports will be taken up together with Ministry of Trade," the Minister said after attending a Limited Meeting on Development of Swallow's Nests and Porang Plants Cultivation chaired by President Jokowi, in Jakarta, Wednesday (4/5).
Syahrul went on to say that Indonesia has many potential areas for porang plants and swallow's nests cultivation.
"To that end, we will immediately accelerate the development from upstream to downstream as directed by the President," he said.
In more detail, Syahrul said that the Ministry will assist and provide technical guidance to farmers of porang plants and swallow's nest, as well as to classify regional and producer groupings.
"Swallow's nests are related to swallow bird's house. It will start with the initial processing of swallow itself, and the final processing of bird house up until the industrial processes," he said.
On that occasion, the Minister also said that President Jokowi ordered efforts to increase the production of the two commodities to side with the community. All regulations that will be made must not hinder farmers and domestic industry.
"I, as Minister of Agriculture, will fully make maximum efforts to provide some areas for porang farmers and swallow bird's house farmers so that we can get more export values ​​for the interests of the country and the people," he concluded.