Agriculture Minister, Presidential Staffer Billy Mambrasar Launch Millennial Farmers Program in W. Papua
By : Nata Kesuma | Saturday, May 22 2021 - 13:45 IWST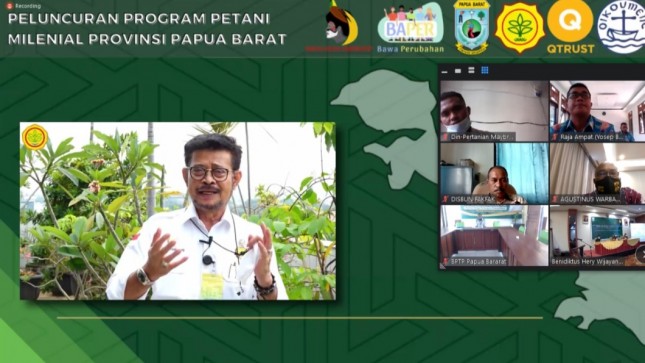 Minister of Agriculture Syahrul Yasin Limpo virtually launches the West Papua Province Millennial Farmers Program, Thursday (20/05). (Photo by: Special Staffer to the President Billy Mambrasar's Team)
INDUSTRY.co.id - On the commemoration of this year's National Awakening Day, Thursday (20/05), Minister of Agriculture Syahrul Yasin Limpo, accompanied by Special Staffer to the President Billy Mambrasar, launched West Papua Province Millennial Farmers Program, held at Swiss-Belhotel, Manokwari, West Papua Province.
Ministry of Agriculture is committed to the launch of the program in West Papua. Previously, in collaboration with Billy, the Ministry has agreed to encourage the participation of 100,000 millennial farmers throughout the country, including in Papua and West Papua.
The program is a manifestation of President Joko "Jokowi" Widodo's commitment in addressing national food security through improved capacity and capability of Indonesian youth.
The launching of the program, collaborated by the Inspirational Young Papua Community and West Papua Provincial Government, was well-received by indigenous Papuan youths. In just a few hours after it was launched, approximately 1,023 youths have registered to take part in this program through links distributed online.
"President Jokowi is committed to speeding up development based on the well-being of Indigenous Papuans (OAP) in the Land of Papua, and programs such as Millennial Farmers are a manifestation of this commitment," the Papuan Presidential Staffer said.
For the record, the Millennial Farmer Program is a part of the Eight Action Plans for the Acceleration of Development in the provinces of Papua and West Papua, as a concrete manifestation of Presidential Instruction Number 9 of 2020 on the Acceleration of Well-being Development in Papua and West Papua Provinces.
On the occasion, West Papua Governor Dominggus Mandacan welcomed the launching and expressed his full support for this program. He expressed hope that there will be a synergy with the Central Government in encouraging the implementation of this program in the future.
Based on data released by Statistics Indonesia (BPS), the agricultural sector occupies the largest labor absorption in West Papua, reaching almost 24 percent of approximately 400,000 existing workforces. This makes the sector the foundation for employment in the province. For this reason, Dominggus expressed hope that more Papuan youths will enter the agricultural sector.
Meanwhile, the Ministry's Director General of Food Crops Suwandi encouraged West Papuan millennial farmers, farmer corporations in the form of business entities run by indigenous Papuan youths, and other youth residing in West Papua to carry out food crop development programs.
The Ministry also announced that members of the Millennial Farmer Program will receive training and access to agricultural facilities provided by the Government and the private sector.