Cabinet Secretariat Holds Online Interpreting Training
By : Nata Kesuma | Friday, July 23 2021 - 17:22 IWST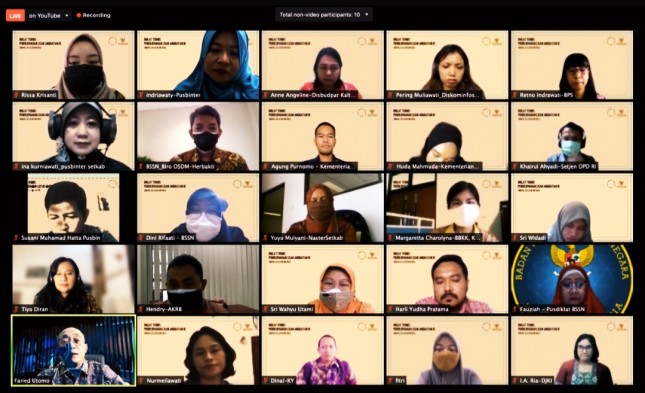 The Opening of Technical Education and Training for Interpreting batch three held online, Thursday (22/07). (Source: Screenshot from Zoom Application)
INDUSTRY.co.id - Cabinet Secretariat, Thursday (22/07), opened the third batch of Technical Education and Training for Interpreting held virtually.
"Amid the pandemic, governance must continue to run and Cabinet Secretary must also conduct its duties and functions as the fostering institution for government functional position of translators, namely by holding technical training for government functional position of translators," Deputy Cabinet Secretary for Administrative Affairs Farid Utomo said in his opening remarks.
According to Farid, translation competence is one's innate ability, but Indonesian government translators must acquire other knowledge.
"That is the role Cabinet Secretary plays as a fostering institution, to provide or facilitate additional knowledge, theories, practices, and qualified speakers to improve the competence of government translators," he said while expressing hope that the training will enhance the competence of government translators and bring benefits to Indonesia.
"Once again, I wish you good luck in this third batch of Technical Education and Training for Interpreting. Let us pray that it will bring benefits not only for ourselves but also for the nation and the country," he remarked.
In the meantime, Head of the Fostering Institution for Government Functional Position of Translators Sri Wahyu Utami stated that this training is the third batch of technical education and training held by the institution this year after holding the first batch of training for tourism translation in March and the second batch of training for interpreting in June.
For the record, this training was attended by 20 government translators from 17 government agencies, consisting of 16 participants from Central Government agencies and four participants from regional government agencies.
The 17 agencies include Cabinet Secretary, Ministry of Industry, Ministry of Law and Human Rights, Ministry of Marine Affairs and Fisheries, Ministry of Tourism and Creative Economy, Ministry of Education, Culture, Research, and Technology, Ministry of Communications and Informatics, Ministry of Agriculture, Ministry of Religious Affairs, Judicial Commissions, the Regional Representative Council, Statistics Indonesia, National Cyber and Crypto Agency, Provincial Government of Central Kalimantan, Provincial Government of Bali, Provincial Government of Bengkulu, and Municipal Government of West Bangka.
The interpreting training adopted the theme of "The Roles of Interpreters in National and International Conference".
The key speaker of this training opening is Angistiya Pinakesti Diran, also known as Tiya Diran – the first Indonesian member of International Association of Conference Interpreters who is also interpreter at G8 and G20 International High-Level Forums in Japan and Australia.
The third batch of Technical Education and Training for Interpreting is held from 22 to 29 July 2021. The training will be given by three speakers, namely Inanti Pinintakasih Diran, Moskwita Darmawan, and Abraham William D. Sipayung who are also academicians and English, French, and Mandarin interpreters respectively.