FLIGHT TO RECOVERY: Insights on the Future of Travel
By : Nata Kesuma | Thursday, October 28 2021 - 22:00 IWST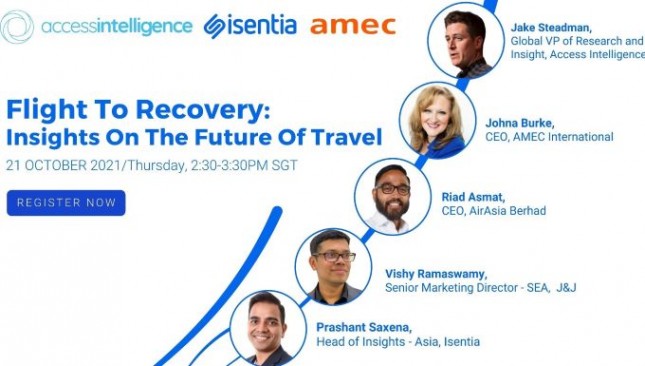 FLIGHT TO RECOVERY: Insights on the Future of Travel
INDUSTRY.co.id - Singapore - While the world is gradually recovering from the crippling effects of the COVID-19 pandemic, air travel is getting its wings back.
Isentia has recently concluded a webinar, along with Access Intelligence, AMEC Global, AirAsia Bhd, and Johnson & Johnson, which enabled them to share some insights and perspectives from the industries they belong in.
The session has also enabled these industry leaders to hold a meaningful and data-driven discussion on what the future holds for the future of travel.
These industry leaders who took part in the webinar are experts from around the world. These leaders include Jake Steadman, Global VP for Insights, Access Intelligence; Johna Burke, AMEC Global CEO; Riad Asmat, CEO of AirAsia Berhad; Vishy Ramaswamy, Marketing Director - SEA of Johnson & Johnson; and Prashant Saxena, Head of Insights - Asia from Isentia.
Future of Travel
Many have argued about what travelling after COVID would look like. Some say the situation will be similar to pre-COVID. Others say there will undoubtedly be a much more different atmosphere with travelling. Since the pandemic, people have been required to work from home, and it has proven to be beneficial to most workers, as they have the privilege to work and travel simultaneously.
Jake Steadman, Access Intelligence's Global VP for Insights, has shared data from Pulsar. Steadman has shown how conversations and engagements occurred around the world. According to the data, most discussions occurred in Manila, followed by Jakarta; then Shah Alam.
The webinar mentioned that Germany was the number 7 top priority for Japanese travellers because of the hashtag #YoursTrulyGermany. Since then, Germany's travel campaign has also attracted Singaporean travel influencers. Meanwhile, in the Philippines and Malaysia, the countries have reopened for domestic tourism.
According to Riad Asmat, the CEO of AirAsia, the travels now will not be the same since there are so many protocols and SOPs in place of the safety aspects.
According to J&J Senior Marketing Director - SEA Vishy Ramaswamy, "We are experiencing a once-in-a-lifetime pandemic, and it will change everything, even while travelling."
Catch these highlights and the rest of the webinar through this link HERE. We look forward to seeing you at our future events!