ASSA Consistently Booked Growth Above 50%
By : Nata Kesuma | Friday, October 29 2021 - 21:05 IWST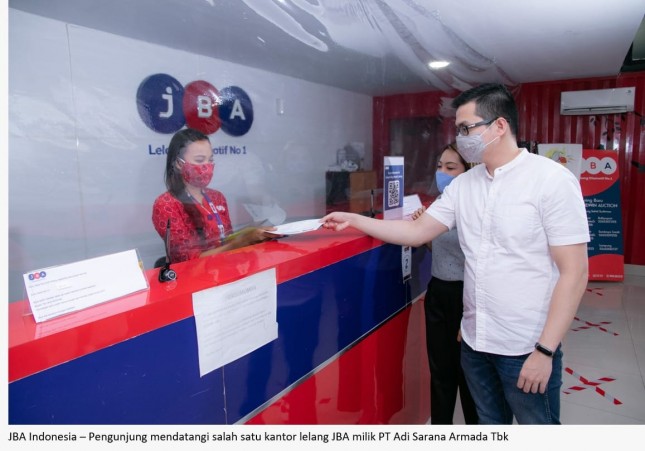 PT Adi Sarana Armada Tbk ("ASSA")
INDUSTRY.co.id - Jakarta, 29 October 2021 – PT Adi Sarana Armada Tbk ("ASSA") a listed company in the sector of mobility, logistics, and its subsidiary businesses, with three main business pillars, which are the mobility business (ASSA rental, driver service, ShareCar, a car-sharing platform), used vehicles trading business (JBA Auction and Caroline, an online vehicle marketplace), and end-to-end logistic (ASSA logistics and express courier-Anteraja), consistently recorded growth over 50% compared to the previous year.
Reflecting on the realization of performance up to the Third Quarter of 2021, ASSA recorded an increase of 61.6% in revenue from the same period in 2020 or reached IDR 3.5 trillion. Meanwhile, net income was recorded at IDR 69.4 billion or grew by 233.5% compared to the same period in the previous year.
"Until the Third Quarter, we managed to score above 50% performance, where revenue and net income could still grow. We are optimistic that this achievement will continue until the end of the year, where we initially targeted ASSA's revenue to grow by 25-30% this year. Revenue and net income growth came from the good performance of Anteraja's express delivery business line and other business pillars, such as the car rental business and vehicle auctions. Until the Third Quarter of 2021, Anteraja managed to grow 269.8%, the car rental business grew 4.2%, while the vehicle auction business grew by 3.4% compared to the same period in 2020. In addition, the debt we took on in 2019 for the acquisition of JBA and the initial development of Anteraja business has been successfully repaid from the results of the issuance of Convertible Bonds through a Rights Issue a few months ago so that the financial burden can be much reduced." said Hindra Tanujaya as Finance Director of ASSA.
Furthermore, Prodjo Sunarjanto, as President Director of ASSA, added that aside from Anteraja, ASSA also continues to encourage the performance of other business pillars. Up until September 2021, ASSA managed to sell approximately 31,000 cars and 44,000 motorcycles through auction.
Meanwhile, the rental business is also still consistently growing with a total fleet of 26,658 units in the Third Quarter of 2021 or an increase of 1,524 units from the same period in the previous year.
"The growth of ASSA's rental business is in accordance with the increasing corporate demand for operational vehicles, while the growth of the auction business is driven by the development of hybrid auction activities from JBA since the Covid-19 pandemic. To reach more auction participants, we have launched the JBA automotive auction application which can be downloaded via the Google Play Store and also the Apple App Store," he said.
In addition to continuously encouraging performance, ASSA also consistently applies the principles of Environmental Social and Governance (ESG).
The ESG principle is an important point for ASSA in operating the business, ASSA has implemented sustainable businesses such as the use of solar panels, the use of recycled water for car washing, and the use of electric motors for Anteraja's operations.
"ESG principles are also important for ASSA business. Therefore, through our commitment to running a sustainable business, we have attracted the attention of IFC (part of the World Bank) to become a lender of Convertible Bonds with zero coupons that can be converted into shares in the next two years. They have seen that this is a plus point from ASSA in maintaining sustainability, including one of which is that we are consistently recruiting thousands of new employees during this pandemic," said Prodjo.
PT Adi Sarana Armada Tbk ("ASSA") at a glance
Established on 17 December 1990, ASSA began its business as a vehicle rental company with a nationwide network. As time went on, the company grew and branched to other business lines, namely: vehicle rental service, vehicle auction service, driver service, and logistic service that leans towards end-to-end logistics.
On 12 November 2012, ASSA performed its IPO and released 40.03%of its shares to the public. Currently, there are 26 thousand fleets of vehicles recorded under ASSA's rental business. ASSA also manages more than 4 thousand drivers which are supported by 45 business networks spread across Indonesia which covers more than 1,800 companies throughout the country.
ASSA also has a complementing car-sharing service under the ShareCar application platform.
In order to support its used car business, in 2019 ASSA acquired the second biggest auction house for vehicles in Indonesia and strengthened ASSA's subsidiary for car auction which is now known as JBA Bidwin Auction (JBA).
JBA is currently Indonesia's biggest automotive auction house with auction sites spread throughout Indonesia and auctions can be done offline or online. Then to complement its internet car trading platform, ASSA established a subsidiary called Caroline where customers can buy and sell their vehicle through the website www.caroline.id.
Furthermore, in developing its logistics business towards the direction of end-to-end logistics, in 2019 ASSA formed PT Tri Adi Bersama which is a company providing express courier (last-mile delivery) services that are based on technology under the brand Anteraja.
Anteraja offers a different service than its competitors which is product pick up from the sender or seller without a minimum number of packages to be picked up.