TRIS Export Market Continues to Grow in the Third Quarter of 2021
By : Nata Kesuma | Tuesday, November 30 2021 - 19:50 IWST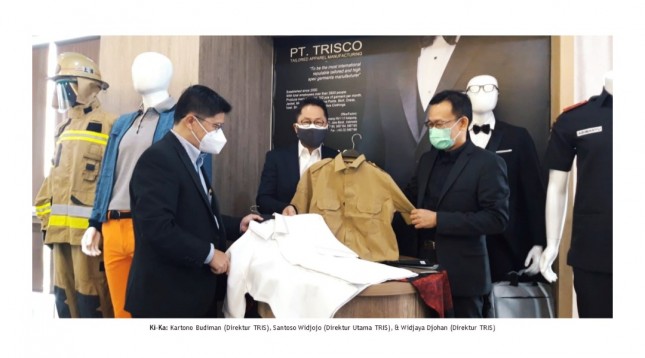 PT Trisula International Tbk ("TRIS")
INDUSTRY.co.id - Jakarta, November 30, 2021 - PT Trisula International Tbk ("TRIS"), a publicly listed integrated apparel provider, engaged in the textile and garment sectors, in the Third Quarter of 2021, TRIS recorded sales of IDR770.8 billion, a decrease compared to the same period last year. However, TRIS export sales have increased due to the high demand for TRIS products in the export market there are Australia, USA, and New Zealand.
Santoso Widjojo as President Director of TRIS explained, "During this recovery period, we are grateful that TRIS export can continue to grow, especially for the demand for products in the Third Quarter of 2021. One of these products which is the biggest contributor is trousers. TRIS managed to record export sales of IDR490.9 billion or grew by 10.6%. Even though it is still in the period of the return of 'PPKM' (Enactment of Community Activity Restrictions), TRIS still managed to survive and even continue to grow."
The increase in TRIS was driven by conditions abroad that had improved and stabilized, starting from the market that had recovered, the purchasing power of the people who had improved, department stores that had returned to normal operations, and port activities that had begun to recover.
Not only that, the increase in TRIS is also due to TRIS marketing activities are still effective so that the demand for TRIS products from export countries is still high even though the world is still in a state of the Covid-19 pandemic.
In addition, in terms of production, TRIS was not constrained nor experienced major impact during the Covid-19 pandemic on the production process since the products produced by TRIS included essential and export-oriented products granting TRIS permission from the Government to continue operating as usual.
TRIS continues to strive to survive and even grow by carrying out good production planning and continues to strive to develop its business.
"Trisula Group has also launched an e- commerce platform called Yukshopping.com, in order to adapt to current consumer shopping patterns and improve online sales performance and become a one-stop-solution that sells various Trisula Group products such as clothing, fabrics, and furniture," closed Santoso.