ZINC Aims for Sales of IDR 1.2 Trillion in 2022
By : Nata Kesuma | Thursday, February 17 2022 - 19:00 IWST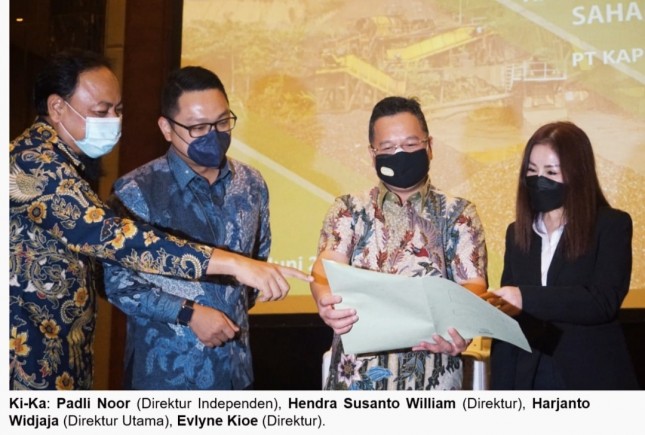 PT Kapuas Prima Coal Tbk ("ZINC")
INDUSTRY.co.id - Jakarta, February 17, 2022 – PT Kapuas Prima Coal Tbk ("ZINC"), a listed company in Indonesia that produces base metal, is optimistic that it can continue its good performance in 2022. ZINC's optimism is supported by one of the Company's smelters which has begun to conduct trial production, which is expected to boost performance this year. In addition, ZINC also sees that the current trend of commodity prices is still stable, so the Company is optimistic that it can record sales of around IDR1.2 trillion by the end of 2022.
Director of ZINC, Evelyne Kioe, said, "We identify that the mining industry is still in the commodities supercycle phase. Therefore, we continue to try to seize this opportunity by increasing ZINC's production capacity, as well as focusing on the completion of our smelter. This is also our commitment to support the acceleration of mineral downstreaming launched by the Government. Based on our observation, zinc and lead commodity prices are still stable, which is expected to continue until the end of the year, so that we can achieve the target set."
In order to support ZINC's operational activities this year, the Company has budgeted a capital expenditure (capex) of around USD 12.5 million. The budget will be focused on building infrastructure and exploration, as well as purchasing several heavy equipment to support the Company's performance.
For the current year, ZINC targets a production capacity of 550,000 – 642,000 tons of ore. Meanwhile, in terms of sales, the Company is targeted to sell around 31,980 tons of lead concentrate and 61,245 tons of zinc concentrate.
Evelyne further explained, after the trial of lead smelter production which had started in early 2022, the Company is currently pursuing the completion of a zinc smelter whose construction progress has reached around 84%. The Company hopes that, with the completion of the construction of the two ZINC smelters, it can raise the spirits of the Galena (Pb and Zn) miners who have been experiencing difficulties in exporting sales.
"Even though the Covid-19 pandemic is still ongoing, we are optimistic that the economic recovery can go well, so that export activities can run smoothly. We will also maintain the performance of iron ore mining for domestic sales, which can increase the Company's sales target of around USD18-20 million for 2022," concluded Evelyn.