BELL Continues to Increase Online Sales Throughout 2021 by 38.4%
By : Nata Kesuma | Friday, March 04 2022 - 13:48 IWST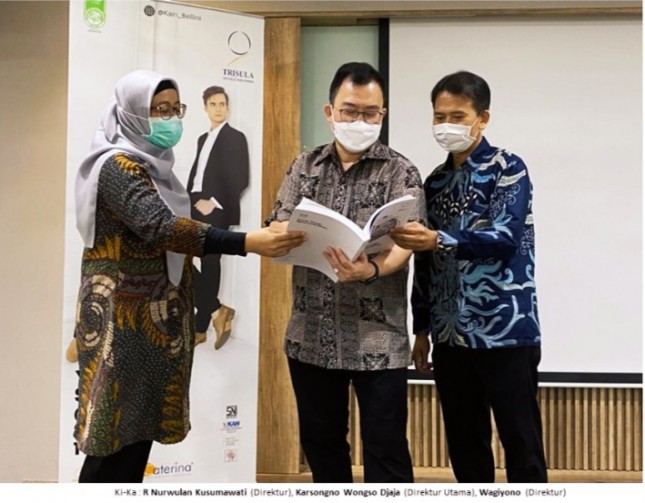 PT Trisula Textile Industries Tbk ("BELL"),
INDUSTRY.co.id - PT Trisula Textile Industries Tbk ("BELL"), a publicly listed Company that produces good quality fabric, uniform, and fashion products, continues to increase online sales in the era of digitalization.
This is demonstrated by the continued growth of BELL's online sales (unaudited) throughout 2021 which increased by 38.4% YoY compared to the same period in the previous year (figures before elimination).
BELL's efforts can also be seen through BELL's commitment to strengthen digital channels by creating the Yukshopping.com E-commerce platform with Trisula Group, as well as through various E-commerce in other marketplaces.
R Nurwulan Kusumawati as Corporate Secretary of BELL said, "BELL continues to identify the opportunities that are present, including in the current digital transformation period. We are not only focused on selling retail stores offline, but are also actively marketing our products online. We have been selling BELL products through various shopping platforms and we have even created an integrated platform for all products from Trisula Group. The goal is that we can continue to adapt quickly to adapt to people's shopping patterns and improve BELL's performance."
Based on McKinsey & Company's 2021 The State of Fashion report1), consumer behavior has undoubtedly shifted over the past year, as people sheltered from the virus in their homes, travel was restricted, and stores closed around the world.
Digital consumption continues to dominate and grow in 2021 so companies need to develop more and encourage consumers to connect. 71% of fashion executives expect their online business to grow 20% or more by 2021.
Seeing this, BELL is also aggressively continuing to develop its online business. Starting from its retail products, namely JOBB and Jack Nicklaus to BELL fabric products. BELL and Trisula Group strengthen their online sales by launching E-Commerce Yukshopping.com in 2021.
BELL has also marketed its products in other online marketplaces, such as Shopee, Lazada, Tokopedia, and so on. Not only through the marketplace, BELL is also aggressively marketing its products using social media and the official website as a means of supporting BELL's online sales.
"We continue to carry out various strategies to improve BELL's performance. This strategy is done through the efforts made including strengthening online sales.Until 2021, we are grateful that online sales of BELL retail products, namely JOBB and Jack Nicklaus, have increased by 38.9% compared to the same period in the previous year," explained Nurwulan.
On the other hand, BELL also continues to expand and increase offline sales through retail stores. Moreover, in 2022, we are optimistic that conditions will be better than in previous years, with retail shops and shopping centers starting to reopen.
"In the future, we expect that BELL can continue to improve our performance and expand the BELL market as an omnichannel, both online and offline. Through various innovations and product quality, BELL is certain that it will continue to improve BELL's performance," concluded Nurwulan.