Submit Social Forest Decree and TORA, President Jokowi: Use it for Prosperity
By : Nata Kesuma | Thursday, February 23 2023 - 10:30 IWST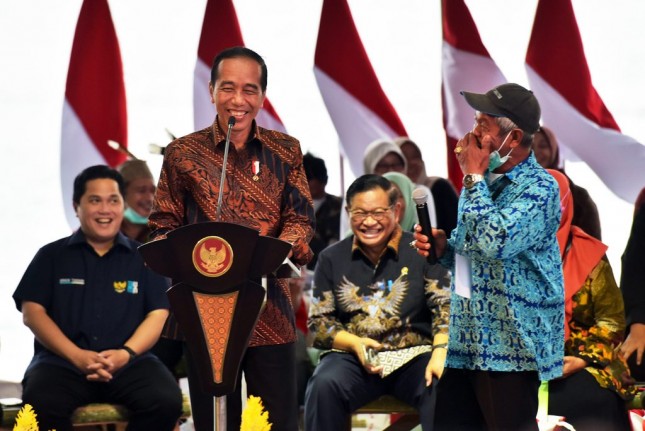 President Jokowi accompanied by BUMN Minister Erick Thohir and Cabinet Secretary Pramono Anung had a dialogue with Saifudin, at the Bamboo Forest Tourism, Balikpapan City, East Kalimantan, Wednesday (22/02/2023). (Setkab/Agung)
INDUSTRY.co.id - Indonesian President Joko Widodo (Jokowi) handed over 514 Social Forestry Decrees (SK), 19 Customary Forest Decrees, and 46 Agrarian Reform Object Decrees (TORA) at Bamboo Forest Tourism, Balikpapan City, East Kalimantan Province, on Wednesday (22/02/ 2023).
In his remarks, the President advised that the land that has been given can be put to the best use to improve welfare.
"In order for everything to be utilized for the welfare of all of us, it must be productive because we give it so that we provide all the land productively, don't neglect it," said the President.
On this occasion, the President also had a dialogue with several SK recipient representatives who were present. One of them is Saifudin, a man who has a plan to manage the land that has been given by the government into a nature education area.
"Now we manage here, we often make camps or camps for knowledge," said Saifudin.
Saifudin sees the condition of Balikpapan City, which will become a big city, as an opportunity to continue his idea so that it can provide benefits to the surrounding community.
"Especially in the Balikpapan area, sir, this will become a big city, the terrace is the capital city, that's for sure, sir, that's why we are making tours there, sir, now every once or twice a month there must be children camping—perami, from elementary to junior high school. ," he explained.
Furthermore, Saifudin also explained that land use as a natural educational tourism area is considered to still be able to provide benefits even though it is managed independently.
" He has self-help income or we rent gazebos, and we look after them there, look after the children, there will be a tariff of Rp. 5,000 or Rp. 4,000 for each child," said Saifudin.
Hearing this, President Jokowi appreciated and supported Saifudin's idea. The President considered this a good idea that could have a good impact on children so that they could get to know nature more closely.
"Ok, that means there will be income later, good, good, interesting, so the children don't hold cellphones, smartphones every day, get to know nature," said the President.
Also attending the event were Minister of Investment/Head of BKPM Bahlil Lahadalia, Minister of BUMN Erick Thohir, Minister of Environment and Forestry Siti Nurbaya, Minister of PUPR Basuki Hadimuljono, Minister of ATR/Head of BPN Hadi Tjahjanto, Cabinet Secretary Pramono Anung, and Governor of East Kalimantan Isran Noor .