Corporate and Government Agencies' Rental Activities Boosting, ASSA Also Gains Benefits
By : Nata Kesuma | Friday, March 10 2023 - 09:45 IWST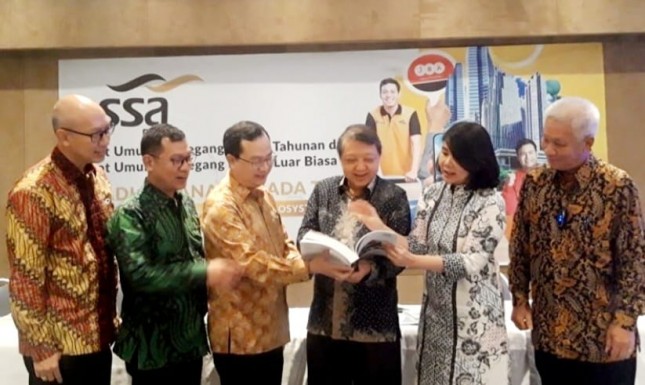 PT Adi Sarana Armada Tbk (ASSA)
INDUSTRY.co.id - Jakarta, March 9th, 2023 – PT Adi Sarana Armada Tbk (ASSA) through its business unit ASSA Rental, has been experiencing the benefits of the increased demand for rental vehicles from private companies and government agencies.
This trend is in line with the revives of the economic activities since the government announced the lifting of the Large-Scale Social Restrictions (PPKM) at the end of 2022.
Since then, ASSA Rental has been inundated with orders from various private companies and even government agencies. The company has gained significant profits from the rapidly increasing demand for rental vehicles in the last three months. ASSA Rental, which is one of the largest corporate rentals in Indonesia, targets to have a rental fleet of around 30,000 units by the end of 2023.
"We are delighted to see the rising demand for rental vehicles, especially from private companies and government agencies. This shows that the Indonesian economy is recovering and thriving after the difficult times during the Covid-19 pandemic," said Prodjo Sunarjanto, CEO of ASSA.
Prodjo Sunarjanto added that ASSA Rental remains committed to providing the best service to customers and fulfilling the demand for rental vehicles throughout Indonesia. With more and more companies and government agencies entrusting ASSA Rental as their rental vehicle partner, the company is ready to continue to grow and expand its service network throughout Indonesia. Therefore, ASSA has added investment to increase expansion in developing branches outside the city such as Lampung, Manado and Surabaya.
Meanwhile in the logistics business, ASSA continues to fulfill its commitment to provide end- to-end logistics solution services. The company will continue to develop and add various logistics services to meet various consumer needs. For this reason, ASSA has carried out various initiatives such as Cargo Share, payment on delivery, cold chain delivery, insurance, drop-off points, and is still developing several other initiatives.
The company aims to be able to further integrate ASSA's logistics business from the first, mid, to the last mile. In particular, the Company is preparing Cargo Share as a midmile to support the growing economy.
Furthermore, Prodjo Sunarjanto emphasized that ASSA will continue to work on the potential of the logistics market for MSMEs sellers (Micro Small and Medium Enterprises) with various initiatives. Seeing the great potential of MSMEs business activities, ASSA through its subsidiary PT Tri Adi Bersama (Anteraja) is developing a non-platform market in Business to Business (B2B).
It is believed that the reviving economy after the pandemic will be able to help increase ASSA's revenue from this segment.
In the business of auction and sales of new and used cars, ASSA through its subsidiary PT Autopedia Sukses Lestari Tbk (ASLC) is actively expanding by continuously opening new showrooms. After opening a showroom in Bekasi last month, this March ASLC will again open a new showroom office in Serpong, Banten, which can accommodate more than 50 cars to become a flagship store.
In 2022, ASLC through Caroline.id managed to sell 2,481 cars, far exceeding the 2022 sales target of 2,000 units. The company targets sales of used cars in 2023 through Caroline.id to reach around 3,000-4,000 units.