This is the Reasons Why Potential Property Investment in Bekasi is Getting Sexy
By : Ahmad Fadli And Aldi Firhand. A | Sunday, January 21 2018 - 19:50 IWST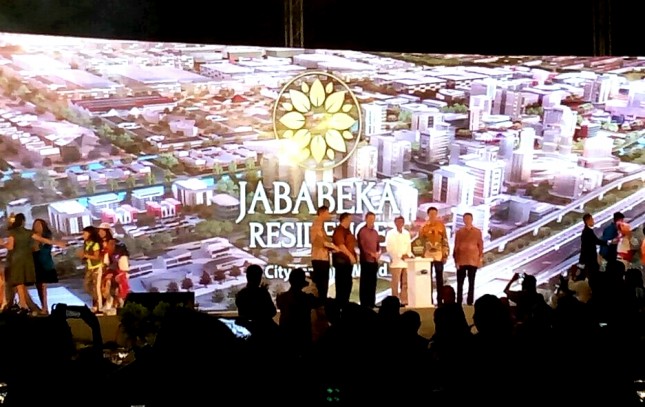 Launch of New Logo Jababeka Residence (dok INDUSTRY.co.id)
INDUSTRY.co.id - Jakarta - For property investors, Bekasi deserves to be glanced as an investment location. What is article? The city of Bekasi became a new business property mecca that is increasingly sexy. Infrastructure is heavily built indeed makes Bekasi soft land invest.
Call it include the Jakarta-Cikampek II toll overpass project, electric train (KRL) route Jakarta Kota-Cikarang, up to the LRT train Jabodetabek Bekasi-Dukuh Atas. As of 4 November 2017 yesterday, the people of Bekasi have also been able to enjoy the Bekasi-Cawang-Kampung Melayu or Becakayu Toll Road.
The existence of new infrastructure in Bekasi area is expected to break down the congestion that happens every day, especially in the Jakarta-Cikampek toll. And according to Property Index Rumah.com data, infrastructure development in Bekasi gives a significant influence on the median price in Bekasi and surrounding areas, including the industrial area of ​​Cikarang.
Potential business property in Bekasi
This is a positive sign that property in the area of ​​Bekasi again wriggled despite being recognized in Q4 2016 had reached Rp7, 71 million / square meter.
Recorded until Q4 2017 the median price of residential houses and apartments in Bekasi reaches Rp7.64 million / square meter. Previously, in Q2 2017 Rp7.58 million / square meter. This is a positive sign that property in the area of ​​Bekasi again wriggled despite being recognized in Q4 2016 had reached Rp7, 71 million / square meter.
And one of property investment location in Bekasi potential one of them is industrial area of ​​Cikarang. Currently, there are more than 4,000 industrial parks in Cikarang, where the number of expatriate workers is estimated at 21,000. With the total expatriates that much, then the potential market rental in the area Cikarang very strong
This fact is then a magnet for the growth of other property subsectors, especially residential. Check here for the various residential options sold in Cikarang starting price Rp300 million.
It also encourages a number of developers to build shelters according to the needs and tastes of the market. From the profit side, the growth of residential prices such as existing house and apartment in Cikarang can reach 10% to 20% per year.
Yes, the existence of various industrial areas such as East Jakarta Industrial Park (EJIP), Jababeka Industrial Estate, Lippo Industrial Area, Delta Mas Industrial Area, Delta Silicon Industrial Zone, Hyundai Industrial Zone, and MM2100 are indeed magnets for the growth of shelters from various segments in Cikarang.
For example, Jababeka Residence, closes in 2017 by setting a new record in Cikarang. Jababeka Residence launches Kawana Golf Residence serviced apartment as a top-class property.
Grand Launching this apartment managed oversold in December 2017, where from the initial target of sale of 6 floors, at the end of December Jababeka Residence managed to sell 10 floors.
In addition to oversold, Kawana Golf Residence broke the record price of golf apartments in East Jakarta by Rp28 million / m2, absorbed by Rp8-12 million / m2 apartments in Cikarang and surrounding areas, putting Jababeka Residence as the new market leader as premium apartment developer.