PSI Dukung Jokowi di Pilpres 2019 karena Konsen Pembangunan Papua
By : Herry Barus And Aldo Bella Putra | Saturday, March 03 2018 - 23:00 IWST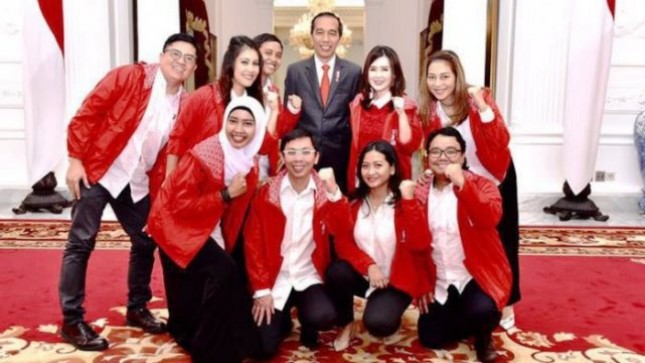 Presiden Jokowi bersama Ketum dan Pengurus PSI (Foto Dok Industry.co.id)
INDUSTRY.co.id - Jayapura - The Indonesian Solidarity Party (DPI) of the Papuan Solidarity Party (PSI) supports the attitude of the general chairman, Grace Natalie, who has previously supported Joko Widodo (Jokowi) in 2019 Presidential Election.
DPW PSI Chairman of the Papua Province Karmin Lasuliha appreciated the attitude of the PSI Chairman and immediately stated his attitude also supports Jokowi to achieve victory in the 2019 presidential election.
"I'm very appreciative, it's very objective if PSI supports Jokowi, Mr. Jokowi is very concentrated in development especially in Papua," said Karmin in Jayapura City, Papua, Saturday (3/3/2018)
March 1, Grace Natalie declared her support to President Joko Widodo to move back in (Pilpres) the next five-year period.
"We express support only, about the candidate vice president we submit to Mr. Jokowi to choose his representative, to find a comfortable partner for next year," said Grace Natalie at the Presidential Palace Complex Jakarta.
On that occasion Grace was accompanied by the Secretary General of PSI King Juli Antoni and Chairman of the DPP PSI External Field Tsamara Amany Alatas.
In fact, Grace called PSI support to President Jokowi actually been delivered about a year ago when there was no political party that declared support, even though the PSI is a new party contesting the 2019 election.
Before the statement of support, Grace held a roadshow in Papua and before returning to Jakarta, Grace Natalie attended a local ground coffee (Kopdarda) in Merauke on Monday (26/2), which was held by caretakers and cadres from four districts in southern Papua.
At that moment, Grace Natalie gave reinforcement to PSI's board and cadres in southern Papua to continue to spread virtues, to nurture diversity and solidify her solidarity especially in Anim Ha.
"Then, the next day, Grace Nalatali continued with Kopdarwil PSI Papua in Jayapura Town.In his speech before the cadres and administrators from 26 districts / cities, he affirmed the attitude of PSI nationally, besides exposing the magic card program that has been echoed," said Karmin.
As Chairman of the PSI and all the board of DPP, said Karmin, Grace has taken a position to support Joko Widodo as President of RI for the second period.
All DPD PSI members from 26 districts / cities who attended fully supported the decision of DPP PSI in supporting Joko Widodo in the next period.
"PSI Papua assures that President Joko Widodo is a country leader who concentrates on building Papua land in his leadership, and several times during his visit to monitor the development process," he said.
"According to PSI Chairman Grace Natalie on PSI's Kopdarwil that PSI refers to meritocracy politics, which is to see leaders of the quality of their performance, those who want to donate, to collect money," Karmin added.