Harvest is Abundant, It's Time to Charge Government Rice Reserve
By : Hariyanto And Aldo Bella Putra | Wednesday, March 14 2018 - 22:00 IWST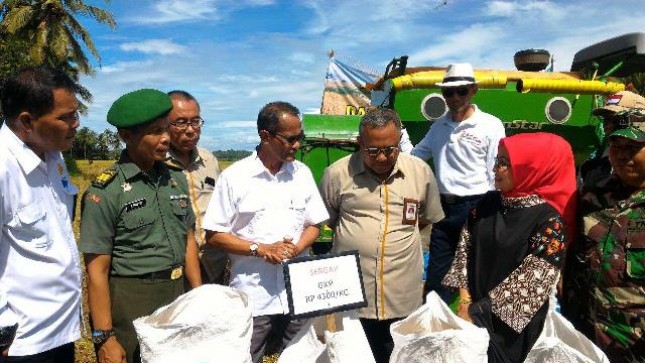 Panen Berlimpah, Saatnya Mengisi Cadangan Beras Pemerintah (Foto Dok Industry.co.id)
INDUSTRY.co.id - Lebak - As one of the provinces contributing to the government's food reserves, Banten has a target of 65,000 tons of unhusked rice (65,000 tons) of total national target of 2.2 million tons until June 2018. The average target is 500 tons per day.
"The absorption of grain is intended to fill the government's food reserves, the national target of 2.2 million tons must be achieved" said Head of Food Security Agency (BKP) Agung Hendriadi as Chairman of the Implementation Team Sergap Ministry of Agriculture when leading Serapan Gabah in Kab. Lebak, Banten, on Tuesday (13/3/2018).
The harvest in Lebak Regency is conducted in Cipeucang Village, Wanasalam Sub-district, covering 426 hectares of the total harvested area in Wanasalam Sub-District with 4,527 hectares.
In the village directly made purchases Rice Harvest (GKP) at a price of Rp 4.300 / Kg while the varieties are Ciherang, Mekongga, Inpari 33.
Chairman Gapoktan Mulyatani Cipeucang Village, Kab. Lebak Hidayat expressed his excitement with the existence of the operations of the Sergab that went straight to the field.
"Ordinary if we harvest this harvest, we always worries, because the price will drop, but this time we are very helpful," he said.
In addition, Hidayat also said that the productivity of farmers harvest also increases with the help of combine harvester from the government. "When we have not got the help of combine, we used to harvest by manual so much losing post harvest," he said.
In this harvest condition, the government is present through Kodim Lebak Primary Cooperative by buying GKP Petani for Rp 4,300 / Kg.
In addition to buying rice from rice fields directly, the Head of BKP Kementan also facilitates cooperation between Sinar Malingping as a partner of Bulog to supply rice as much as 200 tons per two weeks to Divre Bulog Banten.
Still in the series of safari sergab in Banten Province, Sergab Team guarded by the Head of BKP continues to Suka Damai Village and Surakarta Village Kec. Pagelaran, Kab. Pandeglang.
On this occasion, Pandeglang Regent Irna Narulita admitted optimistic to meet the target of rice absorption for government rice reserves of 150 tons / day equivalent to rice until June 2018.
Seeing the potential of harvest that is still ongoing in the region, He also agreed on the target absorption with Dandim and Bulog.
Accompanying the Head of BKP is the Head of Center for Food Availability and Insecurity of BKP Beny Rachman and also attended Divre BULOG DKI and Banten, Banten Dept. Office, Head of Lebak Food Agency, Head of Pandeglang Resilience Office, Head of AIAT Banten, Lebak and Banten Kodim Ranks, Bulog.