Generali Provide Lifetime Protection for Children with Special Needs (ABK)
By : Herry Barus And Aldo Bella Putra | Monday, April 09 2018 - 13:00 IWST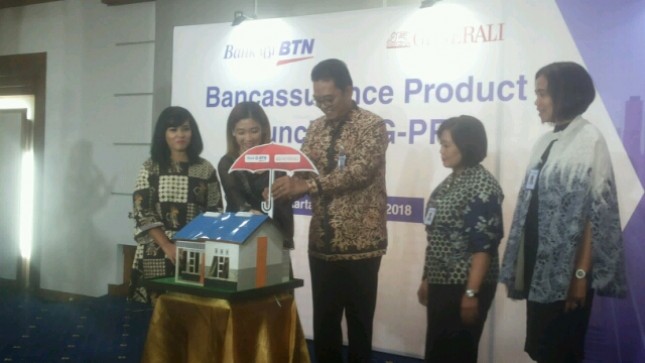 Peluncuran Generali Protection (G-PRO) (Foto: Ridwan/INDUSTRY.co.id)
INDUSTRY.co.id - Jakarta - As a manifestation of Generali's vision of actively protecting and improving people's lives on all fronts, Generali again supports the Imaculata Autism Boarding School program to educate the public on how to educate and assist children with special needs (ABK).
This education was delivered in the 'Autism Workshop' event with the theme 'How to Educate the Behavior and Autistic Children's Independence' as a commemoration of Autism World Care and Autism Month which is commemorated every April 2nd.
Held on Saturday, April 7, 2018 at the Ministry of Women's Empowerment and Child Protection, the event received full support from the Ministry of Women Empowerment and Child Protection (PPPA) and the presentation of workshop materials with Dr. Ir. Imaculata Umiyati, S.Pd ,. M.Si (Chairman of the Imaculata Foundation Autism Boarding School).
Generali's concern for children with special needs is realized with the cooperation that has been established with Imaculata Autism Boarding School, through Generali iPLAN product, where this product provides welfare guarantee to children with special needs when parents can no longer be able to assist their children because of the risk natural life, At the same time, parents can also get protection of critical illness and permanent disability.
Vivin Arbianti Gautama as Chief Marketing and Product Management of Generali Indonesia said, "Children with special needs have greater dependence on adults so that their future and their education become their own attention for Generali. Support to these special needs children as well as the tangible form of one of Generali's values, Live the Community, where we will build strong, sustainable and long-term relationships on every community network."
This 'Autism Workshop' also presents dance, theater, music and fashion show presented by children with special needs and parents. In addition, at this event the conferment to Dr. Imaculata Umiyati, S.Pd., M.Si as 'Bunda Anak Autis Indonesia and Sahabat Anak Berkebutuhan Khusus' from Minister of PPPA RI and the handover of 1000 books entitled '1001 How to Teach Self-Reliance to Children with Special Needs' from Imaculata Autism Boarding School to Ministry PPPA is increasingly completing the series of events.
"Generali believes the support of these special needs children will be a great force that can change the lives of the wider society, not only in normal children. With the financial security that we provide to the future of the crew, this will open up new opportunities and hopes for future generations," concluded Vivin.