Andi Narogong Case Files Delegated to Corruption Court
By : Herry Barus And Aldo Bella Putra | Monday, August 07 2017 - 14:48 IWST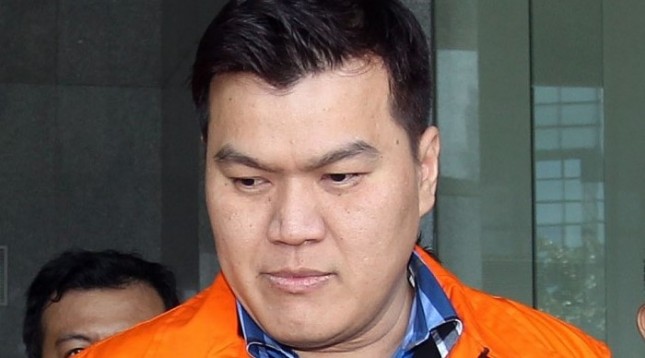 5166
INDUSTRY.co.id - Jakarta Anti-Corruption Commission on Monday (07/08/2017) morning bestow dossier Augustine alias Andi Narogong, defendant-related cases of VAW-e to the Corruption Court in Central Jakarta District Court.
"The file consists of about five thousand pages, containing more than six thousand pieces of evidence, about 150 witnesses and eight experts," said KPK spokesman Febri Diansyah in Jakarta, Monday (7/8/2017)
Furthermore, Febri said the trial of Andi Narogong will be done after getting the determination of the court.
"This is the next chapter of the legal process of e-KTP. Andi is the third defendant we filed for the trial, and public escort is necessary for this case to be resolved," Febri told the media crew.
KPK has set Andi Narogong as a suspect related to the procurement of e-KTP on March 23, 2017.
Andi alleged to article 2, paragraph (1) of article 3 of Law No. 31 of 1999 as amended by Law No. 20 of 2001 on Corruption Eradication jo Article 55 paragraph (1) to 1 of the Criminal Code in conjunction with article 64 paragraph (1) of the Criminal Code with criminal threats Maximum jail 20 years fine of at most Rp 1 billion.
In the indictment KTP-e case mentioned Andi Agustinus alias Andi Narogong formed three consortium of the Consortium of State Printing Indonesia, Astapraphia consortium, and consortium Murakabi Sejahtera.
The entire consortium has been formed Andi Narogong from the beginning to win the Indonesian National Printing Consortium for a total budget of Rp 5.95 trillion and resulted in state losses of Rp2, 314 trillion.
In addition, there are four members of the PNRI consortium on the procurement project of the e-KTP package, namely PNRI, PT Sucofindo, PT LEN Industri, PT Quadra Solution, and PT Sandipala Arthaputra.
The indictment also referred to several team members Fatmawati, namely Jimmy Iskandar Tedjasusila, alias Bobby, Eko Purwoko, Andi Noor, Wahyu Setyo, Benny End, Dudi and Kurniawan, each received Rp60 million related to a number of projects for Rp5,95 trillion.
Also known in the auction process and the procurement was arranged by Irman, Sugiharto and initiated by Andi Agustinus who formed a team of Fatmawati who conducted a number of meetings in the shop of Fatmawati's Andi Agustinus.