Month of Ramadan, SOMPO Launches New Business Unit of SOMPO Syariah
By : Amazon Dalimunthe And Aldo Bella Putra | Saturday, May 26 2018 - 13:30 IWST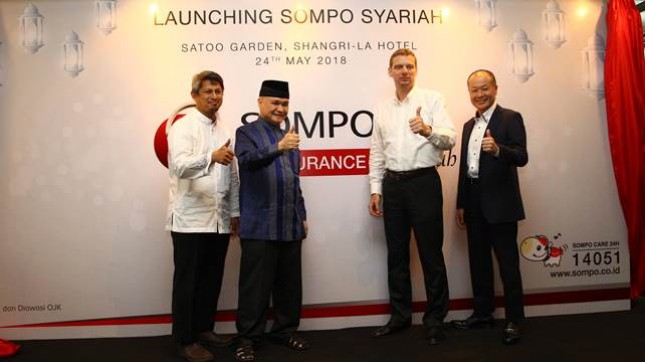 Rachman Mustafa (Head of Sharia Unit), Achmad Riawan Amin (Ketua Dewan Pengawas Syariah) Eric Nemitz (CEO SOMPO Insurance) dan Tatsuya Kuroki (Vice President Director SOMPO Insurance) saat peluncuran Unit Usaha Baru SOMPO Insurance Syariah.
INDUSTRY.co.id - JAKARTA, - Japan's insurance company Sompo utilizes the momentum of Ramadhan this month by launching a new business unit "Sompo Syariah". The launch was done at Satoo Garden Hotel Shangri-La Jakarta, Thursday (24/5).
Attendance of business unit based on the Decision Letter of the Financial Services Authority no. KEP-95 / NB.223 / 2017 has officially operated on August 14, 2017, is part of creating innovation and breakthrough existing insurance.
Eric Nemitz as Chief Executive Officer of Sompo Insurance Indonesia explained that the presence of sharia unit from Sompo Insurance is solely because it assesses that the growth of people's life that put forward sharia continues to grow.
"Our new business unit that is 'Sompo Insurance Syariah' we present to meet the needs of the Sharia market that still has great potential to be developed as well as prioritizing the interests of customers. With the presence of this new business unit, we hope to enter into the Top 10 companies or Sharia business units for general insurance in Indonesia, "he said.
In running the business, he continued, Sompo always creates innovations and breakthroughs to market the best insurance products based on customer service. "For us, improving the quality of service is very important, because the different types of products from other insurance companies is the quality of service in accordance with the goal of Sompo Insurance is to provide the best consumer services, both at home and abroad," he added.
The implementation of the declaration of Sharia principles is supervised by the Sharia Supervisory Board which is familiar in Sharia Insurance Industry namely Achmad Riawan Amin as Head of Supervisory Board and Ahmad Azharuddin Lathif as Member of Supervisory Board. Sompo Insurance Syariah is established to meet and respond to Customer's need for the existence of Sharia Insurance while contributing to the development of Sharia business in general.
According to Achmad Riawan Amin the development of sharia industry is currently growing rapidly in Indonesia, marked by the rise of Shariah-based financial services business introduced to the public by various banking companies such as Syariah banks to Sharia insurance.
"The strength of Syariah economy is also evidenced by the survival of Islamic banks and Sharia insurance in the midst of the economic crisis that hit the world. Sharia economic system as if not feel the impact of the global economic crisis that is in the natural world, "said the former president of Bank Syariah first, Bank Muammalat this.
As recorded in the Shariah Insurance statistics released by the Association of Indonesian Sharia Insurance (ASSI), total asset growth of Sharia Insurance throughout the year 2017 actually showed a positive trend with an increase of 11.94%, followed by an increase in the value of equity of 11.95%. (AMZ)