Officially Launched, Here's The Luxury Facilities Sleeper Train Jakarta -Surabaya
By : Ahmad Fadli Dan Aldo Bella Putra | Wednesday, June 13 2018 - 18:30 IWST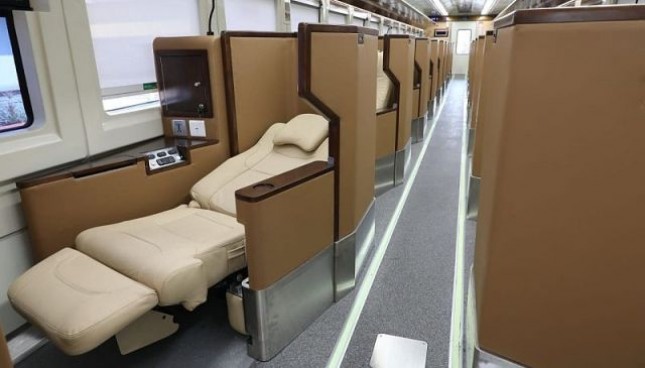 PT KAI luncurkan Kereta kelas luxury jenis sleeper yang melayani pengguna jasa KA di rangkaian KA Argo Anggrek relasi Stasiun Gambir-Stasiun Semarang Tawang-Stasiun Surabaya Pasar Turi (PP)
INDUSTRY.co.id - Jakarta - PT KAI (Persero) launched a super luxury train to serve travelers who will celebrate Eid al-Fitr in the hometown. Train class luxury sleeper type that caters service users in rail circuit Argo Anggrek relation Gambir-Station Station Semarang Tawang-Station Surabaya Pasar Turi (PP).
This train is ordered PT KAI from PT Inka (Persero) and has been tested before handed over to PT KAI on June 8, 2018. Train with all-star luxury facilities began its first task of serving rail service users on Tuesday (12/6/2018) today.
Ticket prices for this latest exclusive service cost Rp900.000 per person. This rate is a promo price that is valid for a month. The public can place tickets through various KAI ticket booking channels starting June 11, 2018.
Exclusive services similar to business class on the plane can be enjoyed by users of sleeper train service during the trip. Starting from the seat can be 170 degrees electrically folded, electric footrests, private entertainment in the form of 12-inch TV with headset, USB charging power source, foldable food tray, pillows and blankets, trash can, glass, cup holder, compartment to store footwear , magazines, and coat hanger which are all available private per passenger per seat.
"In one sleeper train, it will only consist of 18 passengers so it is more convenient," said PT KAI Daop 4 Suprapto, Public Relations Manager of PT KAI Daop 4 Suprapto.
To enjoy this service, passengers must spend quite deep. The normal luxury class fare on KA Argo Bromo Orchid is in the range of the lower limit tariff of the upper limit as follows:
1. Distance 0 - 445 Km: Rp700.000 - Rp1.900.000
2. Distance above 445 Km: Rp750.000 - Rp2.000.000
"Hopefully with the presence of this sleeper train, it can increase the interest of tourist visit to Central Java, especially in Semarang City which is currently being actively-arranging tourism potential, such as Old Town tour," he added.
Meanwhile, President Director of PT KAI, Edi Sukmoro, said the railway with various facilities as a form of innovation to serve consumers.
"This is one form of innovation from PT KAI to improve the service, with the luxury class service, people have more choice of travel class in accordance with the tariff and service," he said.