Telkom Is Ready to Support HKI Face Industrial Revolution 4.0
By : Wiyanto And Aldo Bella Putra | Thursday, June 28 2018 - 19:40 IWST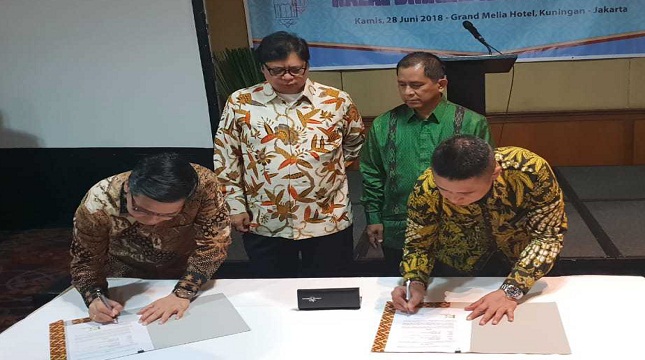 Ketua HKI Sanny Iskandar (paling kiri) dan Direktur Enterprise & Business Service Telkom Dian Rachmawan (paling kanan) saat menandatangani Nota Kesepahaman tentang Penyediaan dan Pengembangan Layanan Telecommunication, Information, Media, Edutainment
INDUSTRY.co.id - In order to support the industrial sector of Indonesia in the face of this 4.0 industry revolution, Dian Rachmawan, Director of Enterprise & Business Service of PT Telkom Indonesia Tbk (Telkom) together with the Chairman of the Indonesian Industrial Zone (SRI) Sanny Iskandar signed the Memorandum of Understanding on the Provision and Development of Service Telecommunication, Information, Media, Edutainment & Services (TIMES).
On the occasion of the 30th Anniversary of HKI witnessed by Minister of Industry RI Airlangga Hartarto as well as Chairman of Board of Trustees of Industrial Estate, at Grand Melia Hotel, Jakarta (28/6).
In his speech, Airlangga said that the President of Indonesia Joko Widodo has launched the program "Making Indonesia 4.0" as Indonesia's strategy to enter the ongoing digital era. It is expected to increase the added value so that Indonesia can compete and win the global competition, so that it can grow the industrial sector. "For that, Telkom has an important role in supporting the progress of 4.0 industrial infrastructure (telecommunication infrastructure), especially the provision of Fiber Optic network and other infrastructure while maintaining the reliability and security aspects," said Airlangga.
Meanwhile, Dian conveyed "This cooperation is a manifestation of Telkom's commitment to help advance Indonesia's industrial sector by digitizing Industrial Zone to Industrial Estate 4.0 and to improve the business value of both entities in sustainable manner," said Dian. On this occasion, Dian Rachmawan also expressed his appreciation for HKI's willingness as a partner of Telkom to develop TIMES services in industrial area. Currently, HKI manages 86 industrial areas spread over 18 provinces in Indonesia.
On the same occasion, Executive Vice President of Telkom's Enterprise Service Division Judi Achmadi said some key factors of Industrial Revolution 4.0 are Digitalization (product & service), Internet of Things (IoT) that enable interconnection of people, things & machine, Utilization of Big Data , and production robotization (machine). For each key factor, Telkom is ready to support its implementation in Industrial Estate.
"Through the cooperation and support of Telkom's competent Information & Communication Technology (ICT) infrastructure, it is expected that the entire industrial estate industry can grow so as to contribute positively to the progress of the Indonesian industrial sector in the future as well as to increase Indonesia's economic growth," said Chairman of the Indonesian Industrial Zone Association ) Sanny Iskandar.
"Supported by a network of fiber optic backbone infrastructure that currently extends across the archipelago from Banda Aceh to Papua as well as international infrastructure networks, we are ready to answer the needs of industry players across Indonesia," concluded Dian Rachmawan.
Industrial Revolution 4.0 or fourth generation industries is a change of industrial sector in the world that is influenced by the proliferation of technology and internet. One result of its application is innovation and changes to more efficient and effective business model. The impact of this revolution is the increased efficiency of production because it uses digital technology and automation, as well as changes in the composition of employment. The use of ICT in the industrial sector will provide time and cost savings so that the resulting product can be more efficient and able to compete in both domestic and global markets.