Ministry of Agriculture: Indonesia Returns Red Onion Export to Singapore
By : Wiyanto Dan Aldo Bella Putra | Tuesday, July 10 2018 - 04:30 IWST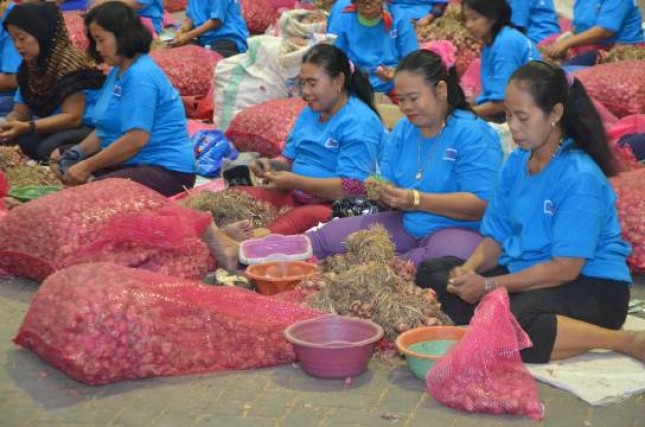 Indonesia Kembali Ekspor Bawang Merah ke Singapura (Foto Dok Industry.co.id)
INDUSTRY.co.id - Jakarta - Jokowi-JK Government continues to commit to realize Food sovereignty and improve the welfare of farmers. Food sovereignty is certainly capable of supplying the supply of its own production and not from import.
In order to realize the vision, according to the direction of the Minister of Agriculture Andi Amran Sulaiman, since 2015 actively strengthen production centers and expanded agricultural areas, especially outside Java and border areas.
In line with that, the Directorate General of Horticulture Ministry of Agriculture also continues to strengthen the area of ​​onion and chili, both in Java and the expansion of areas outside Java Island such as Solok, Tapin, Enrekang, Bima, East Lombok and others.
The results began to be seen, where in 2016, the Government has stopped the total import of onion and since 2017 exports to several neighboring countries. Earlier in 2014 we still imported onion reached 74,903 tons and 2015 imports dropped dramatically to 17,428 tons.
This achievement is reinforced by BPS data which states that in 2017, exports of horticultural commodities rose sharply, especially for onion commodities which reached 7,750 tons or up 93.5% compared to 2016 which only 736 tons.
Director General of Horticulture, Suwandi explained that this achievement made Indonesia able to reverse the situation from the original import to exporter countries of shallots to several ASEAN countries.
"Today we re-prove with red onion export to Singapore" explained Suwandi in the middle of the release of onion export by PT Aman Buana Putera, Monday in Surabaya (9/7/2018).
Suwandi advised that other agricultural production can also be upgraded to be competitive. Its export-oriented products are clearly capable of raising foreign exchange and improving the people's welfare.
Suwandi hopes that in 2018, exports of horticultural commodities can continue to increase higher than the previous year.
"Export from Surabaya alone we have thousands of tons If last year the national exports of 7750 tons.Now for this year, PT Aman Buana Putera alone can export 6000 tons, which means it will rise two-fold.This is thanks to hard work and prayer all parties who have a commitment to build this beloved country of Indonesia "said Suwandi.
Herry Satyo added that PT Aman Buana Putera will export 6000 tons of red onion gradually to Singapore, Malaysia, Thailand and Vietnam.
"We fully support and appreciate the programs and performance of the Ministry of Agriculture dinahkodai Mr. Andi Amran Sulaiman, especially for the achievement of self-sufficiency onion and even exported since last year. We also feel the benefits, even now if we are looking for supply of shallots, in the areas of onion centers, "he explained.
In supplying onion supplies, the Company cooperates with Malang, Bima and Probolinggo farmers. These farmers and entrepreneurs' cooperation form a well-established synergistic pattern for supply fulfillment. In addition, the government also contributes to the implementation of planting management.
"We are partnering with onion farmers in several centers in Bima, Malang, Probolinggo and others in synergy, mutual benefit and sustainable", he concluded.
Meanwhile, Head of East Java Provincial Agriculture Office, Hadi Sulistyo, stated that East Java is the second largest onion center after Central Java.
"East Java onion production currently accounts for about 20% of the total national production, spread in Nganjuk, Malang, Probolinggo, Bojonegoro, Sumenep, Sampang, Pamekasan, Mojokerto to Bondowoso.
He also revealed that his ranks are concentrating on supplying the export-standard Super Philip varieties.
"Meanwhile, to support the export program, we are ready to supply from many centers to develop varieties of Super Philip namely Nganjuk, Probolinggo to Bondowoso", said Hadi.
With the success of red onion export from East Java, Provincial Agriculture Agency believes the economy in the region will be stable.
"East Java Provincial Government policy is very clear, we will continue to maximize the production of local onion to keep inflation stable, and we also support efforts to increase the export of red onion like today. Alhamdulillah this policy is in harmony with the Center", he said.
Suwandi in closing remarks also emphasized that with the implementation of this onion export proves that Ministry of Agriculture not only succeeded in realizing self-sufficiency, but also realize the sovereignty of onion.
The hope of 100 years of independence Indonesia is the year 2045 Indonesia could become a world food barn.