Rejuvenation of the People's Palm Oil was encouraged to Maintain Productivity, Generate Foreign Exchange and Farmer Income
By : Wiyanto Dan Aldo Bella Putra | Monday, September 10 2018 - 20:30 IWST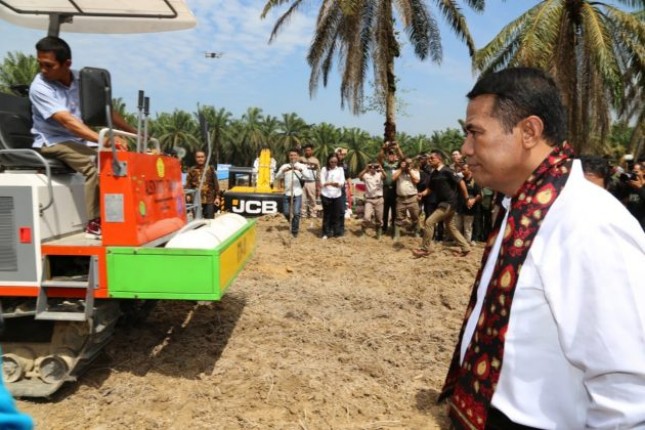 Perkebunan sawit
INDUSTRY.co.id - Jambi Ministry of Agriculture conducts Palm Oil Rejuvenation in Ujung Tanjung Village, Sungai Bahar District, Muaro Jambi Regency, Jambi Province on Monday (10/09).
This activity is part of keeping palm oil commodities as a national strategic commodity that can remain sustainable. Nationally, there are 14.03 million hectare of oil palm land in Indonesia, with a community palm area of ​​5.61 million hectares, and 2.4 million hectares of which need rejuvenation.
Palm oil is still Indonesia's largest export commodity with 2017 export volume of 33.52 million tons of CPO worth USD 21.26. This rejuvenation action is very important to be done to maintain the productivity of oil palm, and most importantly for the sustainability of farmers' future income, said Agriculture Minister Andi Amran Sulaiman who was present with the Chairman of the Indonesian Supreme Audit Agency (BPK), Rizal Djalil.
Jambi is one of the provinces that receive funding from the Oil Palm Plantation Fund Management Agency (BPDPKS). The agency managed by the Ministry of Finance collects funds from CPO exports whose prices exceed 750 USD per metric tons, with a levy of 50 USD per metric ton. The fund is not a part that is charged to the price of fresh fruit bunches (FFB) paid to farmers.
From the data of the Directorate General of Plantations, Ministry of Agriculture, there are 789 thousand hectares of oil palm in Jambi, 578 thousand hectares of which are smallholder oil palm. Of that number, there are 63 thousand that need to be replanted or rejuvenated. In 2018, the Central Government is targeting rejuvenation in Jambi covering an area of ​​20 thousand hectares of oil palm, but the readiness of the Jambi Government is only 15.7 thousand hectares.
This is an opportunity, the government is giving attention to farmers, the local government should be and farmers respond well. Besides Jambi, in 2018, the rejuvenation is targeted to reach 185 thousand hectares in 20 provinces and 75 districts. Seed needs are predicted to reach 27.7 million stems supplied from 17 national seed industries, said Amran.
The Ministry of Agriculture as a member of the steering committee is tasked with rejuvenation activities, provision of facilities and infrastructure, human resources (HR), as well as research and development. Therefore, according to its duties and functions, the Ministry of Agriculture provides technical recommendations in the activities of the People's Palm Oil Rejuvenation.
There are several things to consider why this rejuvenation should be taken into consideration why the rejuvenation needs to be done, including the age of the plant is over 25 years, then low crop productivity is under 10 tons of FFB per hectare per year, and comes from illegitim seeds or not certified . So the selection of seeds must also be appropriate, because if it is wrong the impact is up to 25 years, Amran explained.
The Ministry of Agriculture's recommendations for the assistance of oil palm rejuvenation funds in Jambi have so far succeeded in disbursing the rejuvenation fund for a total area of ​​889.7 thousand hectares with a total fund of Rp.22.2 billion. The funds were received by 5 (five) cooperatives specifically for Merangin Regency, Muaro Jambi Regency, and West Tanjung Jabung Regency, including: farmer groups KUD Hitam Jaya Kab. Merangin covering an area of ​​139.18 hectares, KUD farmer group Sarana Makmur Kab. Merangin covering 222 hectares, farmer group KUD Tani Makmur Kab. Merangin covering 190 hectares, KUD farmer group Fresh Fruit Bunches Kab. Muaro Jambi covering an area of ​​167.75 hectares, a farmer group of KUD Sawit Kita Kab. Tanjung Jabung Barat covering 171.7 hectares.
Especially for Muaro Jambi regency, an area of ​​167.75 hectares was rejuvenated with a value of 4.1 billion rupiah. Those who receive assistance have met the criteria including having to join the Farmers Group, Gapoktan, Cooperatives and other institutions, as well as other criteria that have been determined, Amran said.
In addition to Palm rejuvenation, the Ministry of Agriculture also handed over assistance to Muaro Jambi District in the form of 31,000 Liberika coffee seeds and 89,900 kg of compost to 4 (four) farmer groups. The Ministry of Agriculture also provided assistance for Rubber Seeds for rubber rejuvenation activities in Kab. Batanghari (100 hectares) of 50,000 Batang, and Kab. Sarolangun (290 hectares) as many as 145,000 stems.
Then, the help of coconut seeds for Coconut Plant Rejuvenation Activities in the District. East Tanjung Jabung (430 Ha) as many as 51,600 Stems, and Kab. West Tanjung Jabung (300 Ha) as many as 36,000 stems. 1,400 ha of hiida corn seed as many as 21 tons of two farmer groups.
A number of assistance in the form of agricultural machinery (alsintan) which was also given to a number of farmer groups was medium size combine harvester, small size combaine harbester, power tresher, and corn seller. Meanwhile, Amran symbolically also provides tractors, cultivators and water pumps for several farmer groups.