Expansion, Blibli and Gojek Overseas Startup Acquisitions
By : Ahmad Fadli And Aldo Bella Putra | Tuesday, December 05 2017 - 19:00 IWST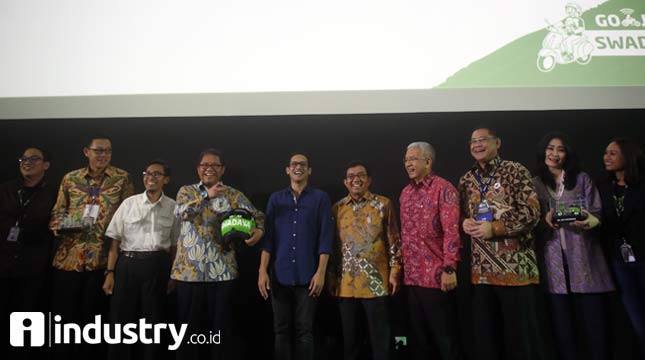 Gojek Gandeng Tiga Bank Nasional Perluas Akses Layanan Bagi Mitra
INDUSTRY.co.id - Jakarta - Local startup business into the category of snapper or commonly called unicorn seems to start flapping its business wings to the global market. One of the most powerful ways in this start-up world is through business acquisition action.
As they did GDP Ventures which continues to immerse capital in a number of stubs. This time, through Blibli.com, the company re-acquisition in the pioneering tourist business.
Apparently, Blibli acquired an online travel agency company namely Indonesian Flight via Tiket.com. "Blibli.com acquired Indonesia Flight through Tiket.com, shortly after the acquisition of Tiket.com.The amount of the acquisition we cannot mention," said CEO Blibli Kusumo Martanto, Monday (04/12/2017).
Blibli own acquired Tiket.com in the middle of this year. So that action is a signal that one of GDP Ventures business line is already getting ready to enter the online tourism business is increasingly widespread.
Kusumo admitted that this expansion step was taken to show the seriousness of Blibli in the onlint travel agency sector aka OTA. In addition, Indonesia Flight has been one of the business partners of Tiket.com since four years ago.
Although already part of Tiket.com, Blibli will let the management of Indonesian Flight to run as usual. But different this time is the help from Tiket.com. Similarly, the management of Tiket.com also will get support from Indonesian Flight.
Not to forget, Blibli itself, said Kusumo will help both companies to continue to grow. Unfortunately, Kusumo did not specify the form of assistance that would be provided by Blibli whether in the form of an injection of funds or anything else. "What is clear, we support to grow more rapidly," he said.
Just so you know Indonesia Flight itself is one of the first start-up in the homeland which presents air ticket purchasing service through mobile applications since 2012.
According Gaery Undarsa, Chief Communication Officer and Co Founder Tiket.com, his company, namely Tiket.com become sister company of Indonesia Flight. As for the target business with the company's joining to Tiket.com, he cannot comment much. "It's still in discussion with the group," he said.
In addition to GDP Ventures, another start-up company, Go-Jek Indonesia also did not want to miss business expansion. As quoted from Deal Street Asia, the online transportation company is buying minority shares in a transport application based on two wheels in Bangladesh that is Pathao.
Indeed, between Go-Jek and Pathao has been in talks several weeks to be able to realize these investments. Gojek himself agreed to inject capital of US $ 2 million into Pathao in the form of Series a funding.
The purpose of this expansion is predictable. Go-Jek apparently wanted to make a replica of Go-Jek Indonesia business to Bangladesh. Understandably, the atmosphere of the country is similar to Indonesia's rada, ie in a number of cities often occur congestion that became a business gap for Go-Jek Indonesia.
By entering the Bangladesh market, Go-Jek is slowly able to optimize features already operating in Indonesia. Like starting from online transportation, delivery of goods, food and of course to online payment system.