IMAKGI Gives Orphan Symphatetic Care Again
By : Dina Astria And Aldo Bella Putra | Monday, April 02 2018 - 13:00 IWST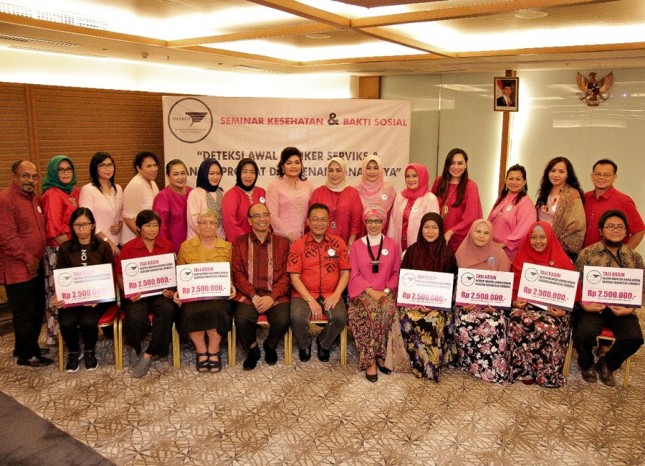 IMAKGI kembali memberi santunan kepada anak yatim
INDUSTRY.co.id - Jakarta - Former Crewman of Garuda Indonesia Cabin (IMAKGI), again held orphans donation on Saturday, March 24, 2018 together with several donors.
Chairman of IMAKGI period 2016-2019, Santo Kadarusman preach hundreds of orphans from 7 orphanages scattered in the area of ​​JaBoDeTaBek, each sending 5 representatives present at the event the compensation.
Events compensation, filled by goods made and ready to sell from every Orphanage. In addition there is a Health Seminar "Early Detection of Cervical Cancer & Prostate Cancer and its Handling", in cooperation with RS Siloam MRCCC and Fiesta White Tea made by PT Singa Mas Indonesia, a subsidiary of Charoen Pokphand.
Fiesta White Tea is a favorite drink of healthy and fit mothers, because White Tea has high antioxidants and has many benefits such as lowering cholesterol, protecting the heart, lowering blood sugar levels, reducing aging and shrinkage of the skin and prevent the mutation of cancer-causing cells and as antiviral as well as antimicrobial, originally in regular drinking.
Fiesta White Tea first in Indonesia, ready-to-drink tea drink with White Tea base. Picked from the youngest tea leaves, without preservatives, artificial sweeteners with 2 choices of flavors that have its own uniqueness, the taste of Lychee and Jasmine ".
As known, Santo through IMAKGI has been "concern" to orphans. During this period of stewardship, Santo regularly holds donors who care about orphans
Previously, the former Garuda Indonesia Cabin Crew Association (IMAKGI), is a social organization, has a "Member for Member" purpose. In achieving these aims and objectives, IMAKGI Board will conduct various activities in the broadest sense of the word.