IMAKGI Held Watching The Perfect Husband, Saint Kadarusman Give Vision To Garuda Indonesia
By : Dina Astria And Aldo Bella Putra | Sunday, May 06 2018 - 23:59 IWST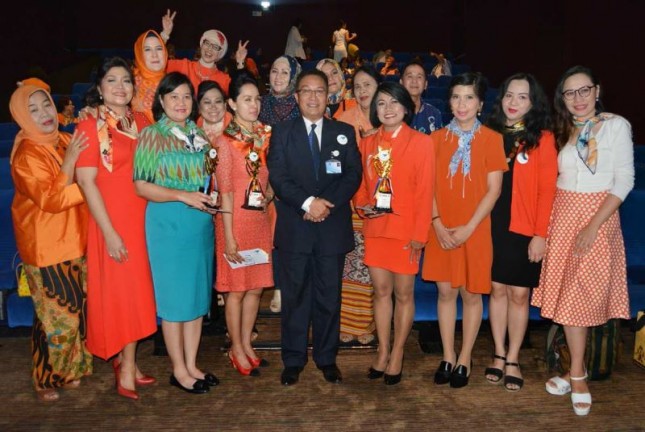 IMAKGI gelar nobar film The Perfect Husband
INDUSTRY.co.id - Jakarta - IMAKGI (Ikatan Former Crew Cabin Garuda Indonesia) recently (3/5) held a movie with the movie "The Perfect Husband" in the cinema Plaza Senayan. The film of a young pilot's matchmaking with a high school girl is adapted from a novel by Indah Riyana that has been read by more than 2 million people. Not only his best-selling novel, the film was directed by Rudi Aryanto and produced Screenplay Films with Legacy Pictures was also fun to watch.
Not surprisingly, IMAKGI as a community where every member has been in direct contact and has memories loaded with GIA (Garuda Indonesia Airways) has been busy hosting a movie show that has been aired since two weeks ago.
"The Perfect Husband" which is a romantic comedy drama genre seems to be successful bringing its own sweet memories not only, for the former crew cabin plane but also, for all Indonesian movie viewers who love quality treats.
"The Perfect Husband deserves to be a reunion event. This movie exposure is expected to further strengthen the ropes of fellow members of IMAKGI, "explained Santo Kadarusman, Chairman of IMAKGI in his speech.
Opportunity to take a direct face to face with St. Kadarusman who has ended his career in Garuda Indonesia without flaw, it is impossible to miss an interview with him without mentioning the current turmoil in the management of state-owned PT. Garuda Indonesia, Tbk, related to the plan of mass strike of pilot, cabin crew and employees of Garuda.
"There is cause for effect. Surely there are things of dissatisfaction that trigger until the crew and the employee have to plan that way. I feel legitimate, but it would be nice if the delivery of aspirations, demands or expectations should not harm the public, such as with strike action. Is not all the problems, can still be in musyawarahkan ?, "he explained when asked about the matter of the mass strike.
Santo also added that what should be addressed in some posts that directly indirectly support the service of Garuda, such as; hotel crew stay, shuttle transportation and food menu beveragenya food.
According to him, the number of directors of Garuda Indonesia is excessive, basically in every company usually enough 6 personnel with 1 managing director and 5 director.
"Re-analysis of each destinations, look at his profit and loss. If the destinations they lose, what is it for? When Garuda continues to develop the service losses that will suffer even greater, depending on the case by case. Must be seen and studied the details of each division / department, "he added.
"Operation tokh already running, and the system is well established, what is the wrong taken from the insider, provided that the relevant qualified, able and able. If you look less capable, you should still open from outside Garuda but, ideally, should have basic experience and expertise related to the aviation industry / tourism / public service or, a reliable businessman, "he added.
"I love Garuda, Garudalah who has made my life and family colorful. I am proud of Garuda. Garuda is half my breath. There is no way I would not want to help Garuda, "said Santo straightforward when his preparedness tersentnya, one time asked to occupy a seat in the Board of Directors of Garuda.