Brought up Dragon Fruit, Director General of Horticulture Visits Agro Sleman Tour
By : Wiyanto Dan Aldo Bella Putra | Sunday, May 27 2018 - 21:30 IWST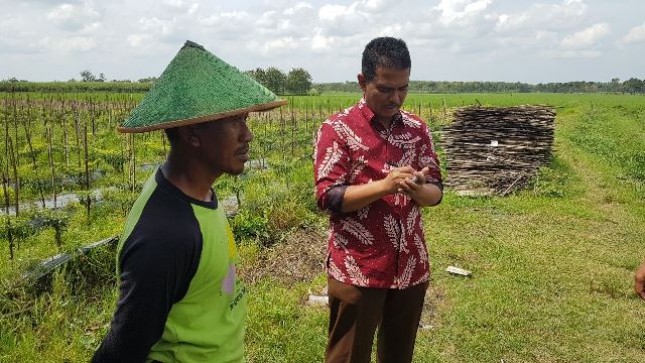 Dirjen Hortikultura Kementan Suwandi (Foto Dok Industry.co.id)
INDUSTRY.co.id - Ministry of Agriculture (Kementan) eyeing the increase in dragon fruit production. This is in accordance with the direction of the Minister of Agriculture Andi Amran Sulaiman to increase the production and power of agricultural products that have high economic value so that later can be exported.
This subject, Director General of Horticulture, visited Suwandi agro tourism Sleman, Yogyakarta, Saturday (26/05/2018). The location is right in the slopes of Merapi there is a dragon fruit center is quite exotic.
Fruit derived from a cactus-like plant originating from this hylocereus clan can grow in Indonesia.
One of them is Muhamad Gunung Sutopo. In the hands of a gracious man who graduated from this IPB dragon fruit cultivated with a turnover of millions of dollars per month. At Kertodadi, Pakem Binangun Sleman, Gun Sutopo calls this smiley figure that has Sabila Farm who manages a land area of ​​10 hectares for the development of fruits. It used to be that this land is not optimal, but we can conjure into a dragon fruit orchard.
"There are 4 special acres of dragon fruit; there are 1000 trees per hectare. The rest for sour sop, avocados, oranges, srikaya, bananas, durian and vegetables, "he said.
Gun Sutopo adds this dragon fruit that exist in this crop has been 13 years. Dragon fruit is already exported to Europe and Latin America. The dragon fruit from Indonesia is identical to tropical area, very liked by foreign community.
"Our competitors are from Israel, Vietnam and Thailand. It's a challenge for us. Sabila farm employs the surrounding community. Here is also used for training places, "he said.
In the holiday season, Sabila Farm run by Gun Sutopo is always crowded with visitors. Last year there were 14 thousand visitors and 6 thousand of them studying internships.
"Sabila farm itself has expanded its network and built up to spread in 17 locations both in Java and outside Java with 600 hectares of dragon fruit. The market is no problem, "said Gun.
"The younger generation should go to agriculture. The principle that if you want to farm should be strong intentions, embroidery and desperate, it must be Jebret Jebret Jebret so, "he pleaded.
On the occasion of his working visit, Director General of Horticulture, Suwandi appreciated what Gun Sutopo had done. Farmers do not give up easily and innovative currents that follow the development of the times and should be able to find a breakthrough.
"This is something extraordinary. Imagine, unproductive land can be processed into a dragon fruit orchard, "he said.
According to Suwandi, if one plant can produce 20 to 30kg of fruit alone we can harvest 20 to 30 tons per hectare. In Sabila Farm per kilo 30 thousand, means 900 million rupiah. While the cost of the petition is only 250 thousand, it means it has become a promising business gap.
"Moreover, it can provide local people's jobs as well. But indeed the challenge in us is the superior varieties of consumer preferences and technology cultivation, "he said.
Head of Horticulture Department of Sleman Agriculture Office Edi Sri Harmanto explained Sleman has great potential for dragon fruit that reach 300 hectares. Moreover, people demand continues to increase, dragon fruit has a good prospect to be developed.
"Propagation of seeds was easy, can use vegetative way. Currently there are only about 20 hectares of dragon fruit in Sleman, "he explained.
"Local market demand itself is never cut off. In addition to the fulfillment in Jogja itself, dragon fruit from Sleman also supplied to the Bogor and Jakarta, "concluded Edi.