Ministry of Agriculture Receives Repayment Commitment to Compulsory Garlic Planting
By : Wiyanto And Aldo Bella Putra | Saturday, August 25 2018 - 00:30 IWST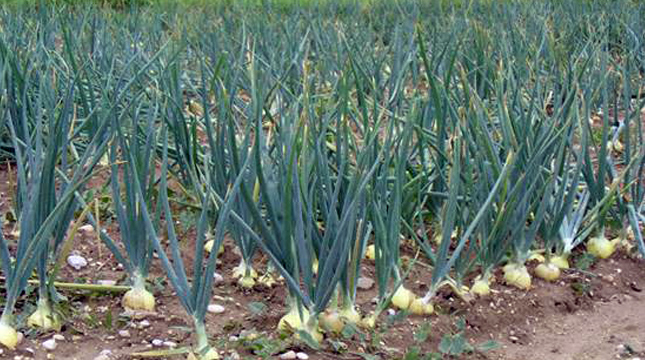 Ladang Bawang Putih (Istimewa)
INDUSTRY.co.id - Semarang - The Ministry of Agriculture (Ministry of Agriculture) is currently aggressively planting garlic domestically to pursue the self-sufficiency target in 2021.
Approaching the deadline for compulsory planting for the garlic RIPH recipients in 2017, the Ministry of Agriculture continues to collect the promise of importers to grow garlic domestically and generate 5% of the total submission of import recommendations.
"The deadline for compulsory planting from 2017 RIPH is until 31 December 2018", said the Director General of Horticulture, Suwandi when leading the Mandatory Garlic Coordination Meeting in Semarang, Monday night (8/20). The Coordination Meeting invited 81 importers to receive 2017 Horticultural Products Import Recommendation (RIPH), the Inspectorate General of the Ministry of Agriculture and the Department of Agriculture from the centers of white onion production.
Suwandi revealed that the total obligation to plant garlic RIPH holders in 2017 reached 8,335 ha. It is estimated that it will reach its peak in the growing season in October - December 2018.
"We encourage the 2017 RIPH holders to immediately repay their planting obligations before 31 December 2018. Currently, local or imported seeds from Taiwan are sufficiently available, so there is no reason not to plant," he said.
"If accidentally absent from its obligations, there are already sanctions that govern. We will not issue import recommendations in the following year, which results in the issuance of an import agreement, "he said.
Director of Vegetables and Medicinal Plants, Prihasto Setyanto added that this coordination meeting was held in view of the increasingly narrow mandatory completion time for planting. Mentoring and counselling are important and beneficial for importers so they will not encounter difficulties later.
"In the next 2 to 3 years, garlic importers are expected to become local garlic entrepreneurs who partner with farmers," he said.
Prihasto claimed that a system was now established to ensure the correctness of planting through android-based digital mapping. "He hopes that there will be no manipulation and overlapping of land," he said.
Sukoco, one of the participants representing garlic importers expressed his company's readiness to keep and pay off the obligation to plant garlic until the end of this year. He admitted that he still had more than 200 hectares of debt over the 2017 RIPH issuance.
"We are committed to completing planting in October-December later in Sembalun, Tegal, Majelengka and Garut," he promised.
"We deliberately chose these months because they adjusted to the cropping pattern at the location," said Sukoco. "So it's not because we want to stall when we don't plant it immediately," he added.
It is worth noting that this coordination meeting was attended by more than 80 representatives from importers, 24 district agriculture offices, and 4 Seed Province Monitoring and Certification Centers, namely Central Java, East Java, DKI Jakarta and NTB were present at the meeting. The importers are given assistance and consultation related to the acceleration of the realization of compulsory garlic planting.