FWD Life Invites Young Generation to Create Digital Innovation through FWD Hackathon 2017
By : Aldo Bella Putra | Friday, August 04 2017 - 20:05 IWST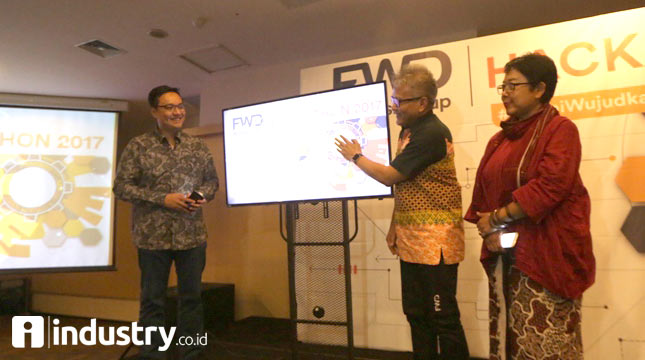 5166
INDUSTRY.co.id - Jakarta - PT FWD Life Indonesia (FWD Life) -based Life Insurer (PT FWD Life), invites young people to create the best innovation in creating a digital ecosystem while building a digital life insurance era by hosting FWD Hackathon 2017.
By changing the way people think about insurance, FWD Life hopes to support the Financial Services Authority (OJK) program in increasing literacy and inclusion in Indonesia.
Vice President of FWD Life Rudi Kamdani said, as a pioneer of digital life insurance, FWD Life has the responsibility to take part in increasing insurance penetration in Indonesia especially with the utilization of digital innovation.
This is of particular concern to companies in excess of OJK per data for the first quarter of 2017 indicating that insurance penetration in Indonesia is only 2.70 percent [1] which means it is still lower than some other countries in Asia such as Singapore, Malaysia and Thailand which are already in level 5 percent.
"We believe that digital technology innovation can accelerate the penetration of life insurance in Indonesia, especially nowadays there is a shift in the lifestyle of young generation who is technology literate. This is a chance for FWD Life to hold a talented young generation in utilizing digital technology to build the era of digital life insurance in Indonesia" , Explained Rudi in Jakarta (4/8/2017).
FWD Life collaborated with Founder Institute to hold FWD Hackathon 2017 for the first time in the insurance industry, which invites young people to think and explore their creativity in creating applications that focus on ease of insurance.
"This strategic partnership is expected to produce a new embryo insurance world that can strengthen the life insurance industry in the future, making it more competitive and provide more contribution to the country. FWD Life itself has developed many digital insurance solutions for our customers," he said.
He hopes that digital technology innovations will be born to support the transformation of the insurance business from underwriting, risk management to claims, making it possible to create a more convenient, fast and convenient insurance experience.
Prior to the 2017 FWD Hackathon 2017 event on September 22nd - 24th, FWD Life and FounderInstitute will conduct a road show to promote the program and provide insight into the insurance industry to areas such as Jakarta, Surabaya and Bandung.
Director of Founder Institute Jakarta Andy Zain hopes FWD Hackathon2017 can provide benefits to build a better insurance industry with the ideas and innovation of the nation's children.
FWD Life believes that every day is a new adventure. Through various innovations, FWD Life invites the people of Indonesia to achieve the best in living all activities by providing the right protection for a life full of possibilities.
FWD Hackathon 2017 gives an opportunity to the young generation to convert their passion into a definite income as well as be a part in building a new era of digital life insurance in Indonesia.